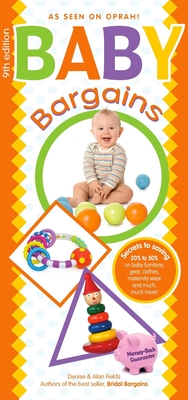 Baby Bargains (Paperback)
Secrets to Saving 20% to 50% on baby furniture, gear, clothes, toys, maternity wear and much, much more!
Windsor Peak Press, 9781889392400, 608pp.
Publication Date: April 1, 2011
* Individual store prices may vary.
Description
Wow! A baby book that actually answers the big question about having a baby: How am I going to afford all this?
With the average cost of a baby topping $7,000 for just the first year alone, you need creative solutions and innovative ideas to navigate the consumer maze that confronts all parents-to-be. Baby Bargains is the answer! 
Inside, you'll discover:
    • The best WEB SITES that offer the biggest discounts!
    • NAME BRAND REVIEWS of car seats, bedding, strollers, high chairs, diapers and more!
    • FIVE wastes of money with baby clothes and the best outlet bargains.
    • NINE tips to saving money on cribs, plus in-depth reviews of crib brands.
    • THE TRUTH ABOUT STROLLERS—and which brands work best in the real world.
    • The SEVEN MOST RIDICULOUS BABY PRODUCTS.
    • DOZENS of safety tips to affordably baby proof your home.
    • DETAILED CHARTS that compare brands of cribs, strollers,  car seats and more!
 
This new 9th edition adds the latest tips and advice on getting bargains on baby gear, including: 
1. How to use social media, "groupons," and deal-of-the-day sites for baby bargains.
2. The latest brand reviews on the hottest strollers.
3. Crib safety: what to buy now and what to avoid, given the new safety rules.
4. Organic baby gear: worth it? Or just hype?
5. And as always, the most up-to-date reviews of car seats, baby monitors, nursery furniture and more!
 And there's much more in the new 9th edition of BABY BARGAINS! Download a free sample chapter at http://www.babybargains.com
About the Author
Denise & Alan Fields are the country's best-known experts on baby gear. Featured as product gurus on NBC's Today Show, Good Morning America and the Oprah Winfrey Show, the Fields have been quoted in numerous publications such as the Wall Street Journal and Time Magazine. The New York Times called the Fields' book, Baby Bargains, "the bible for new parents."As consumer advocates and authors, the Fields have spent the last 16 years researching and writing about getting the biggest bang for your buck when it comes to baby gear. Their best-selling book Baby Bargains has over 700,000 copies in print and features detailed reviews and ratings on cribs, car seats, strollers, high chairs, carriers and much more.How do two mild-mannered folks from Boulder, CO become the country's go-to source for info on baby gear? The Fields started their focus on bargains with their best-selling book on weddings, BRIDAL BARGAINS. Following life's milestones and the birth of their first son, the Fields wrote BABY BARGAINS back in 1994.The secret sauce to Fields success? An army of readers (moms and dads, grandparents and more) who post 1000 comments a day to the Fields' message boards. Harnessing that reader feedback, the Fields incorporate real world tips and their own first-hand inspections of baby gear at numerous trade shows to author the country's most authoritative guide on buying for baby.The Fields are also the co-authors and publishers of the best-selling Baby 411 series, which includes Expecting 411, Baby 411 and Toddler 411.
Praise For Baby Bargains: Secrets to Saving 20% to 50% on baby furniture, gear, clothes, toys, maternity wear and much, much more!…
"The bible for new parents," New York Times.
or
Not Currently Available for Direct Purchase