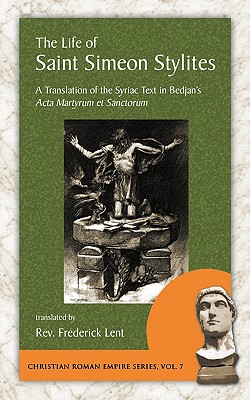 The Life of Saint Simeon Stylites (Christian Roman Empire)
Paperback

* Individual store prices may vary.
Description
Originally published in the Journal of the American Oriental Society, this English translation of The Life of Saint Simeon the Stylite is a fascinating account of the prototypical pillar saint-the first of those strange holy athletes who took their stand atop a high column. Of unknown authorship, this vita was originally written in Syriac and was most likely penned shortly after Simeon's death in AD 459. Much of Simeon's biography consists of mystical events, miraculous cures, piety rewarded, depravity punished, divine and satanic interventions in the lives of men. But the vita also contains a wealth of information about monastic and penitential practices and provides dozens of vignettes chronicling daily Christian life and the many hardships faced by ordinary citizens of the late Roman Empire in the East. This book also includes an another article originally published in the Journal of the American Oriental Society by Charles C. Torrey entitled, "The Letters of Simeon the Stylite." This article offers English translations of several letters purportedly written by Simeon, along with a useful discussion of the controversy over the saint's opinion of the Council of Chalcedon.
Evolution Publishing & Manufacturing, 9781889758916, 143pp.
Publication Date: January 16, 2009