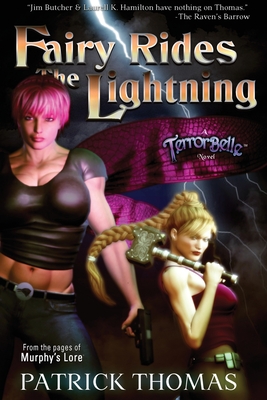 Fairy Rides the Lightning - A Terrorbelle Novel (Paperback)
Padwolf Publishing, 9781890096502, 212pp.
Publication Date: July 15, 2012
Description
A weekend getaway from New York City goes awry and Terrorbelle winds up in Valhalla where Thor the Norse god of thunder stands accused of murder. It's up to the gun-toting fairy and fellow Nemesis & Co. agent Rudy to clear the Valkyrie's father, that is if they can defeat a biker gang, outmaneuver a giant serpent, convince the imprisoned trickster Loki to help them, cool down a lust goddess, beat an evil dwarf, and face down Odin himself. Will it be enough to prove Thor's innocence before Odin's plans to delay the end of the world are destroyed? Or will they end up qualifying for Valhalla themselves? Only one thing is certain- The bad guys are about to learn that anything can happen when FAIRY RIDES THE LIGHTNING. "Thomas certainly brings the goods to the table when it comes to writing urban fiction...I promise, you will love... Terrorbelle: Fairy With a Gun. Who doesn't love a well-stacked, asskicking, gun-toting, woman with bullet-proof, razor-sharp wings that investigates all manner of supernatural spookiness? I know I do, and Thomas's humor shows through in every tale. Jim Butcher and Laurell K Hamilton have nothing on Thomas." The Raven's Barrow "I Love Terrorbelle... She's one badass fairy gal." -Ida Vega-Landow, The Journal of the Lincoln Heights Literary Society.
Advertisement