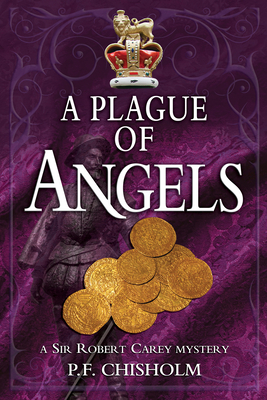 A Plague of Angels: A Sir Robert Carey Mystery (Paperback)
A Sir Robert Carey Mystery
Poisoned Pen Press, 9781890208431, 268pp.
Publication Date: October 1, 2000
Description
In 1592, dashing courtier Sir Robert Carey took up his northern post as Warden of the West March in order to escape the complications of creditors and court life. Trouble, however, dogs his heels wherever he goes. And where he goes in autumn, after the summer's misadventures in Carlisle, is back to London upon a summons from his father.
Carey is on difficult terms with his powerful sire, Henry, Lord Hunsdon. Hunsdon, son of Anne Boleyn's elder sister, Mary -- and probably of a young King Henry VIII -- swings a lot of weight as ""cousin"" to Queen Elizabeth. But Hunsdon needs his ingenious younger son, Carey to sort out the difficulties his elder son has got himself into as an innocent party in a plot to discredit the family.
Accompanied by the shrewd Sergeant George Dodd, who's like a fish out of water as he copes with the strange Londoners, Carey tackles Catholics, treachery, and such persons known to history and students of literature as George Greene and Christopher Marlowe who are working as spies and double agents. Most arresting is a portrait of a love-sick, snivelling hanger-on named Will Shakespeare....
Praise For A Plague of Angels: A Sir Robert Carey Mystery…
"A Chisholm mystery is the next best thing to time travel.... For those who find the journey more compelling than the final destination, a Chisholm novel will offer an unforgettable Elizabethan pilgrimage."

--Kirkus Reviews
Advertisement