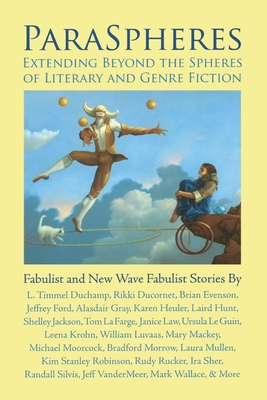 Paraspheres (Paperback)
Omnidawn, 9781890650186, 637pp.
Publication Date: June 1, 2006
* Individual store prices may vary.
Description
With Fabulist and New Wave Fabulist stories by 44 Literary and Genre authors, this anthology follows in the footsteps of Conjunctions 39 (from Bard College, New York), the Fall 2002 issue, which focused on New Wave Fabulist writers.
About the Author
RIKKI DUCORNET IntroductionIRA SHER Lionflower HedgeLEENA KROHN The Son of ChimeraANGELA CARTER The Cabinet of Edgar Allan PoeKATE KASTEN Ever and AnonWILLIAM LUVAAS Lithia ParkMICHAEL MOORCOCK The Third Jungle Book: A Mowgli StoryMAUREEN N. MCLANE White GirlKIM STANLEY ROBINSON The Lucky StrikeMARY MACKEY Third Initiation: A Gift from the Land of DreamsJANICE LAW Side EffectsCAROLE ROSENTHAL The Concert Pianist's FlightSTEPHEN SHUGART Making FacesJUSTIN COURTER The Town NewsCAROL SCHWALBERG The Midnight LoverTOM LA FARGE Night ReconnaissanceSHELLEY JACKSON Short-Term Memorial ParkPAUL PEKIN The Magnificent Carp of Hichi StreetL. TIMMEL DUCHAMP The Tears of NiobeRIKKI DUCORNET LettuceRANDALL SILVIS The Night of Love's Last DanceALASDAIR GRAY Five Letters From an Eastern EmpireANNA TAMBOUR The Beginnings, Endings, and Middles BallRUDY RUCKER The Jack Kerouac Disembodied School of PoeticsIRA SHER Nobody's HomeLEENA KROHN The Ice Cream VendorKAREN HEULER Jubilee DreamsBRIAN EVENSON An AccountingK. BANNERMAN Armegedn, or The End of the WordBRADFORD MORROW Gardener of HeartLAURA MORIARTY MaryolatryKEVIN W. REARDON The Cloud RoomNOELLE SICKELS The TreeTERRY GATES-GRIMWOOD Nobody Walks in LondonGLADYS SWAN The Tiger's EyeJUSTIN COURTER SkunkMICHAEL ANDRE-DRIUSSI Old Flames in New BottlesCHARLIE ANDERS Power Couple, or Love Never SleepsRIKKI DUCORNET Who's There?JEFF VANDERMEER The Secret Paths of Rajan KhannaMERCEDES SANCHEZ Dream CatcherROBIN CATON B, LongingLAIRD HUNT Three TalesLEENA KROHN About the Henbane CitySTEPAN CHAPMAN Losing the WarMARK WALLACE The FlowersJEFFREY FORD The White ManMICHAEL CONSTANCE Finding the WordsLAURA MULLEN English / HistoryURSULA K. LE GUIN The Birthday of the WorldMICHAEL MOORCOCK Cake
Praise For Paraspheres…
"A feast of fine writing and striking applications of the fantastic to the everyday . . . ParaSpheres performs an inestimable service."  —Nick Gevers, Locus magazine

"[A] marvelously generous collection of stories that dart back and forth over the boundary supposedly separating the genre of the fantastic from mainstream literature."  —Peter Straub, bestselling author

"A marvelous anthology full of marvelous tales. The sum of an anthology can sometimes be greater than its parts, and these parts—these stories—are bold, haunting, and remarkable."  —Kelly Link, author, Stranger Things Happen

"The editors have cast an impressively wide net. . . . As a collection of stories, andan introduction to a number of new writers, ParaSpheres is fine, and well worth your attention."  —Stephen Jeffery, Interzone

"ParaSpheres has succeeded in . . . presenting an excellent selection of unique writing and providing an alternative framework through which it may be understood."  —Miranda Siemienowicz, HorrorScope

"Full of superb stories . . . often breathtaking . . . ParaSpheres doesn't point toward other worlds as much as point toward ours, and how we have let our public and private spheres become, alternately, reverie and nightmare."  —Alan DeNiro, Rain Taxi Online

"This anthology begins with a fascinating discussion of fiction and its subdivisions. . . . They are tales of weirdness and wonder, largely set in odd analogues of our own world. Not quite like ordinary literature, nor yet like typical fantasy, they hold a unique and intriguing flavor."  —S. Ardrian, Fearless Reviews
or
Not Currently Available for Direct Purchase