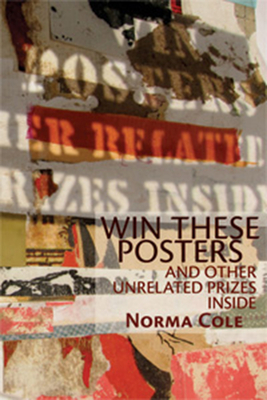 Win These Posters and Other Unrelated Prizes Inside (Paperback)
Omnidawn, 9781890650681, 100pp.
Publication Date: September 1, 2012
* Individual store prices may vary.
or
Not Currently Available for Direct Purchase
Description
Win These Posters and Other Unrelated Prizes Inside opens with a foreword, an envoi laying out the concerns of the book. The book's rhythmic geography tracks a shadow epic with its "1400 Facts," aspects of feats, or anti-feats, events on the ground, but the hero/anti-hero is "you" & "I" & "we" and the narrative is "splinters of stars." Fact/fiction, the West/Middle East, present/past, surface/depths, sound/silence-- antinomies or continua? "More Facts" marks the question, "When// does the past/ begin?" What does it mean, "to be at war"? How do we measure agency or time? Compression, compassion, rigor, reduction, focus. By means of posters, messages, notices, announcements and images. The poems, linked to one another by motion, emotion, image, diction, consider questions & "facts" - what are facts? "It is the simple fact of one's own existence as possibility or potentiality." Giorgio Agamben, The Coming Community Ch.11] What are dreams? The book closes with "If I'm Asleep" --don't wake me.
About the Author
NORMA COLE is a poet, painter and translator. Her recent poetry publications include The Vulgar Tongue, Desire & Its Double and Spinoza in Her Youth, Scout, a text/image work in CD-ROM format. Current translation work includes Danielle Collobert's Journals, Anne Portugal's Nude and Crosscut Universe: Writing on Writing from France. She created 2004-6 Collective Memory, an installation, performance, and publication for Poetry and its Arts: Bay Area Interactions 1954-2004, California Historical Society, San Francisco, CA. Cole has received a Wallace Alexander Gerbode Foundation Award, Gertrude Stein Awards, the Robert D. Richardson Non-Fiction Award, as well as awards from the Fund for Poetry. A Canadian by birth, Cole migrated via France to San Francisco where she has lived for over twenty years.
Advertisement