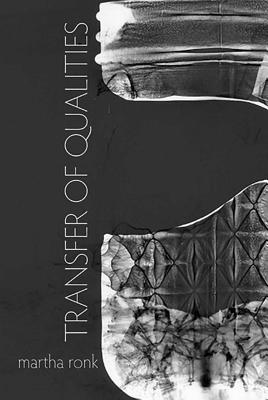 Transfer of Qualities (Paperback)
Omnidawn Publishing, 9781890650827, 79pp.
Publication Date: April 1, 2013
* Individual store prices may vary.
or
Not Currently Available for Direct Purchase
Description
Transfer of Qualities addresses the uncanny and myriad ways in which people and things, but also people and those around them, exchange qualities with one another, moving in on, unsettling: altering stance, attitude, mood, gesture. Each entry in the book probes the dissolving boundaries between those sharing space with one another; and the various cross-genres in the book--prose poem, creative non-fiction, personal essay--echo the theme of inter-dependence. Material things often seem amazingly alive and tropic--a puppet or toy, a plate, a rug underfoot, a dim photograph on the wall across the way--and this collection follows in the footsteps of other authors also obsessed with the boundaries between life and death, the moving and the still, the stone-like book and the vivid stirring within the pages. There are many authors behind Transfer of Qualities, but the major genie of the piece is Henry James whose musings on his own, The Sacred Fount, provided the book's title and direction.
About the Author
MARTHA RONK is the author of nine books of poetry, including Partially Kept (Nightboat Books), Vertigo (Coffee House), a National Poetry Series Selection, and In a landscape of having to repeat (Omnidawn), a PEN/USA best poetry book 2005, and Why/Why Not (University of California Press). She has also published a fictional memoir, Displeasures of the Table, and a collection of fiction, Glass Grapes and other stories (BOA Editions 2008); her poetry is included in the anthologies Lyric Postmodernisms (Counterpath Press), American Hybrid, (Norton), and Not For Mothers Only (Fence). She had residencies at Djerassi and The MacDowell Colony, and taught summer programs at the University of Colorado and Naropa; in 2007 she received an NEA Award. She worked as editor for Littoral Books and The New Review of Literature, and is the Irma and Jay Price Professor of English at Occidental College in Los Angeles, teaching Renaissance Literature and Creative Writing.
Advertisement