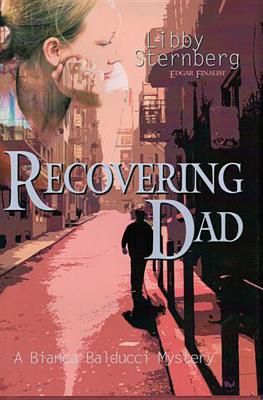 Recovering Dad (Hardcover)
Bancroft Press, 9781890862589, 248pp.
Publication Date: November 1, 2008
* Individual store prices may vary.
or
Not Currently Available for Direct Purchase
Description
It's Bianca Balducci's junior year in high school, and she's got more than enough on her plate already—impending SAT scores, college admissions, and the mixed signals of sort-of-boyfriend Doug. But when she finds out her mother, widowed as long as Bianca can remember, is marrying Officer Steve Paluchek, a longtime family friend, things get even worse very, very quickly—because Paluchek, according to Bianca's private-eye sister Connie, is the man responsible for the death of their police officer father.



And so Bianca is pulled into her most personal case yet—learning, for the first time, who her father truly was, even as she tries to determine who killed him. Was it Paluchek? He does seem to have ties to the immigrant smuggling ring their father was investigating. Was it Paluchek's partner? And can Bianca figure it out before an increasingly irrational Connie makes a fatal mistake?



Edgar finalist Libby Sternberg spins a yarn that will keep Bianca fans glued to the page.
Praise For Recovering Dad…
"The real draw to this story is Bianca's voice, which is strong, vibrant, confident, and vulnerable. Her insights into the emotional lives of other characters move the story along. With its light dose of teen issues, Recovering Dad is a good transition for fans of Nancy Drew to contemporary teen fiction."

--SCHOOL LIBRARY JOURNAL



"The mostly realistic and believable story moves quickly, aided by the quick-witted, first-person narrative."

--VOYA (LESLIE WOLFSON)



"What strikes the reader most about this series is just how all-American girl-next-door Bianca is. So many mysteries written for YAs have characters that are so much more courageous and intelligent than their readers; Bianca is a girl her readers will find familiar, like them . . . The sisters Balducci operate frequently out of emotion, not exactly cool reasoning, but that makes them all the more believable to YA readers."

--KLIATT



"Just enough humor and action that the story doesn't get bogged down, and a spunky, believable heroine make this a fun and exciting read. Recommended for high school collections and older middle school mystery collections."

--TRI-STATE YOUNG ADULT LIBRARIANS (PA, NJ, DE)



"Recovering Dad is the third book in the Bianca Balducci mystery series, but it serves quite well as a standalone. I hadn't read either of the previous books before reading Recovering Dad, and I found myself comfortably ensconced in a story bursting with likable characters, everyday problems that every teenager will be able to relate to, and a murder mystery that twists and turns on its journey enough to keep readers guessing. Bianca's voice is light and entertaining, and the balance between the mystery and the everyday was well done. I thoroughly enjoyed Recovering Dad, and I look forward to reading more of Sternberg's work."

--TEENS READ TOO (5 OUT OF 5 STARS)
Advertisement