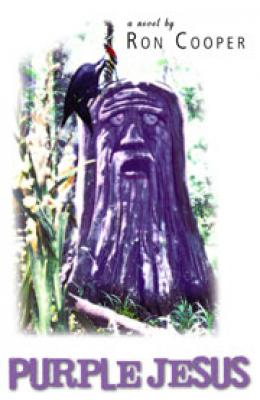 Purple Jesus (Hardcover)
Bancroft Press, 9781890862701, 224pp.
Publication Date: October 1, 2010
* Individual store prices may vary.
or
Not Currently Available for Direct Purchase
Description
When Purvis Driggers, a South Carolina Low Country loser with little judgment and even less chance for a decent life beyond his parents' house, home town, and whatever part-time work he can scrounge up, seeks to rob an old man of the rumored millions hidden in his house and fails, he's drawn to the sound of music across the creek. There, he discovers a beautiful woman in a white gown being baptized in the water. Surely Martha, beautiful Martha, will give Purvis the escape he imagines. But Martha Umphlett is trapped, too. Made to take care of her obese mother and forced to participate in a baptism she has no interest in whatsoever, Martha, in her own way, is every bit as desperate as Purvis, but far more capable and a good deal more dangerous. Ron Cooper's "Purple Jesus" is a mystery, a love story, a religious allegory, and, most importantly, a dark and comic descent into the lives and world views of these unbelievable and unforgettable characters.
Praise For Purple Jesus…
"Purple Jesus is a novel that deserves a place on the bookshelf between O'Connor's Wise Blood and Crews's The Gospel Singer, but Ron Cooper has his own unique voice, and what a marvelous, darkly comic voice it is. He is an immensely talented writer."

— Ron Rash, 2009 PEN/Faulkner Award Finalist for Serena



"Ron Cooper's Purple Jesus is a happy handful of a book. With characters as recognizable as they are eccentric, a storyline as inclusive as a revival tent, and a prose style that snaps like garters, it is one nifty read. Anyone who doesn't enjoy this novel just doesn't know how to have a good time." — Fred Chappell, former longtime professor of English, University of North Carolina, and award-winning Novelist and poet (Prix de Meilleur des Livres Etrangers, the Bollingen Prize, and the T. S. Eliot Prize)



"A bit like Wizard of Oz meets Midnight in the Garden of Good and Evil meets The Color Purple. Peculiar, interesting, and intriguing.— Jeffrey Allan Johnson, Commander Instruments



"I have just finished reading Ron Cooper's new novel. I know that what a publisher typically wants a reviewer to do is assemble a fanfare of comparisons—to Lewis Nordan, to Walker Percy, or even to Faulkner. But the truth is that comparisons just aren't enough. Purple Jesus shows that Cooper has the ear of a poet engaged in the sport of finding exactly the right words. He has the wild-haired tendency of a philosopher to mix beliefs, ideas, possibilities, and humor as if he was whipping up a Sunday pot-luck supper casserole.And he combs and plumbs the memories of his childhood home like a shaman knitting together the culture of a tribe. Damn me if this isn't a fine book, a powerfully good yarn that makes you want to thrust pages under someone's nose and say, 'Read this!'" — Garrison Somers, Editor-in-Chief, The Blotter Magazine, Durham, NC
Advertisement