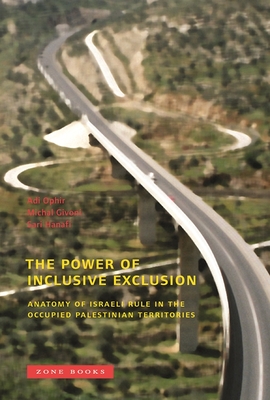 The Power of Inclusive Exclusion (Hardcover)
Anatomy of Israeli Rule in the Occupied Palestinian Territories
Zone Books, 9781890951924, 641pp.
Publication Date: December 1, 2009
* Individual store prices may vary.
Description
Groundbreaking essays by leading Israeli and Palestinian scholars analyze the system of Israeli power in the Occupied Palestinian Territories.
On the eve of its fifth decade, the Israeli occupation in the Palestinian territories can no longer be considered a temporary aberration. Israel's control over Palestinian life, society, space and land has become firmly entrenched while acquiring more sophisticated and enduring forms. The Power of Inclusive Exclusion analyzes the Israeli occupation as a rationalized system of political rule. With essays by leading Palestinian and Israeli scholars, a comprehensive chronology, photographs, and original documents, this groundbreaking book calls into question prevalent views of the occupation as a skewed form of brutal colonization, a type of Jewish apartheid, or an inevitable response to terrorism. The writers address the fundamental and contemporary dimensions of the occupation regime--its unpredictable bureaucratic apparatus, the fragmentation of space and regulation of movement, the intricate tapestry of law and regulations, the discriminatory control over economic flows and the calculated use of military violence. The Power of Inclusive Exclusion uncovers the structural logic that sustains and reproduces the occupation regime. In a time when military occupations are emerging globally, political disasters abound, and protracted control over groups of noncitizens has been normalized, The Power of Inclusive Exclusion provides a new set of categories crucial to our understanding of emergency regimes and identifies what is at stake for an informed and timely opposition.
Contributors
Caroline Abu-Sada, Gadi Algazi, Ariella Azoulay, Orna Ben-Naftali, Yael Berda, Hilla Dayan, Leila Farsakh, Dani Filc, Michal Givoni, Mira Givoni, Neve Gordon, Aeyal M. Gross, Sari Hanafi, Ariel Handel, Keren Michaeli, Adi Ophir, Ronen Shamir, Yehuda Shenhav, Eyal Weizman
About the Author
Adi Ophir is Professor of Philosophy and Political Theory at the Cohn Institute for the History and Philosophy of Science and Ideas at Tel Aviv University. He is the author of The Order of Evils: Toward and Ontology of Morals (Zone Books, 2005) and other books.
or
Not Currently Available for Direct Purchase