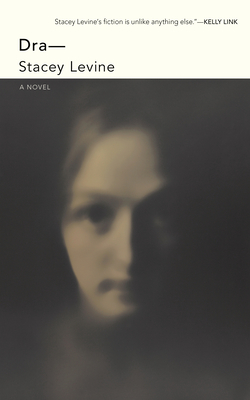 Draa
Paperback

* Individual store prices may vary.
Other Editions of This Title:
Paperback (1/1/2011)
Description
A new edition of a classic of contemporary American literature, first published in 1997 by Sun & Moon Press but unavailable in recent years. Dra--, the nondescript heroine of this grim, hilarious fiction, might have fallen through the same hole as Lewis Carroll's Alice, only now, 130 years later, there's no time for frivolity, just the pressing need to get a job. In a sealed, modern Wonderland of small stifled work centers, basements and sub-basements, night niches, and training hutches connected by hallways just inches across, Dra-- seeks employment . . . This labyrinthine journey is brilliantly mimicked in the architecture of the prose. Levine creates cozy little warrens, small safe spaces made of short clear sentences, then sends the reader spiraling down long broken passages, fragmented by colons and semi-colons which give a halting, lurching gait to our progress. A quest, a comedy of manners, and a parable, Dra-- is, above all else, a philosophical novel concerned with the most basic questions of living.
Praise For Draa…
Stacey Levine is one of the most interesting writers working in America today, startling and idiosyncratic in the best sense" (San Francisco Bay Guardian)

"Stacey Levine ignores lyricism as an evolutionary dead end. Life is fractious and dire, her prose style says; let fiction serve as razor and torch. It's not that Levine isn't funny or that she doesn't forge phrases and sentences of throat-clutching beauty. It's just that her effort to dissect humankind's propensity for neuroses, fallacies, and other inanities requires measured drollery and surgical concision." )Bookforum)

Levine's satire of work is clever, unsettling, and timely." (Kirkus Reviews)

Levine has made work an abstract concept into the backdrop for a frightening piece of prose in which everything matters and everything is presumed and little is understood, a formula indeed for modern angst. . . . Dra is intoxicating . . . [Levine] is careful with her prose, deliberate and sure-footed, and often darkly funny." (Seattle Weekly)

Like Camus and Kafka before her, Levine uses the self in relation to society to crack the oppressive ordinariness of normalcy . . . Levine has managed to depict something everyone knows and everyone loathes in a style that mimics the very file-cabinet blandness of her subject, yet still makes for compelling fiction." (Rain Taxi Review of Books)
Verse Chorus Press, 9781891241314, 148pp.
Publication Date: February 14, 2012
or
Not Currently Available for Direct Purchase