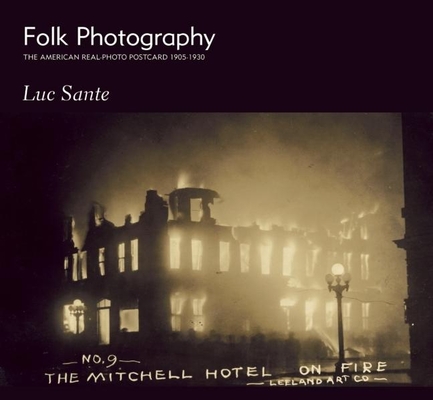 Folk Photography
The American Real-Photo Postcard, 1905a-1930
Paperback

* Individual store prices may vary.
Description
In rural America at the beginning of the twentieth century, the worldwide postcard craze coincided with the spread of light, cheap photographic equipment. The result was the real-photo postcard, so-called because the cards were printed in darkrooms rather than on litho presses, usually in editions of a hundred or fewer, the work of amateurs and professionals alike. They were not intended for tourists, but as a medium of communication for the residents of small towns, isolated on the plains and in the hills. The cards document everything about their time and place, from intimate matters to events that qualified as news. They show people from every walk of life and the whole panorama of human activity: eating, sleeping, labor, worship, animal husbandry, amateur theatrics, barn-raising, spirit-rapping, dissolution, riot, disaster, death. Uncountable millions of them were made in the peak years, 1905 to 1912. Previous books on the subject have been content to dwell on the nostalgia value of the images. This book takes a broader and deeper view. The 122 postcards it reproduces cover the vast range of subjects encompassed by the medium--sometimes lyrical and sometimes bracingly harsh--while Luc Sante's pathbreaking introductory essay places them in their full historical and artistic context. Sante argues that the cards were a medium of expression very much like the folk music being made in the same places at the same time--open to the complete and unvarnished experience of life, and enacting tradition even as they embody modernity. Besides that, he demonstrates that they represent a crucial stage in the evolution of photography, as the essential link between the plain style of the Civil War photographers and the vision of the great midcentury documentarians, Walker Evans above all. Combining his gifts as a chronicler of early twentieth-century America, a historian of photography, and a clear-eyed and eloquent critic, Sante shows how the postcards' "vast, teeming, borderless body of work" add up to a "self-portrait of the American nation.
Yeti Publishing, 9781891241550, 159pp.
Publication Date: November 1, 2010
About the Author
Luc Sante's books include Low Life: Lures and Snares of Old New York, Evidence, The Factory of Facts, and Kill All Your Darlings: Pieces 1990-2005. He is a frequent contributor to the New York Review of Books and has written about books, movies, art, photography, and music for many other periodicals. Sante has received a Whiting Writer's Award, a Guggenheim Fellowship, a Literature Award from the American Academy of Arts and Letters, and a Grammy (for album notes). He lives in Ulster County, New York, and teaches photography at Bard College.
or
Not Currently Available for Direct Purchase