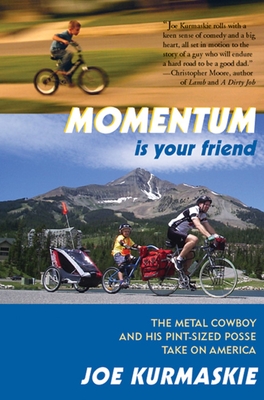 Momentum Is Your Friend
The Metal Cowboy and His Pint-Sized Posse Take on America
Hardcover

* Individual store prices may vary.
Other Editions of This Title:
Paperback (9/27/2011)
Description
Most people bring their inner child on an epic adventure. Joe "Metal Cowboy" Kurmaskie actually took his two kids along. For a 4,000-mile bicycle ride across America, Joe's seven-year-old son, Quinn, rides a tagalong bike attached to his dad's; and behind that is five-year-old Enzo in a bike trailer.

Our hero the Metal Cowboy answers the question "What are you, crazy?" with a resounding and cheerful "Yes." Unassisted--with no support crew except his boys' comic relief and the periodic kindness of strangers--he pedals hundreds of pounds of gear and offspring over mountain passes, across the wide plains, through thunderstorms, and into the heart of what it means to be a dad.
Along the way they encounter everything that makes up America--small-town kindness and inner-city heart, wild horses and highway roadkill, a?bitter Vietnam vet and a hopeful young inventor, grizzly bears and bison roaming free, cyclists and monstrous RVs, a very peppy cheerleader and a visitation from the ghost of the author's father, horrible traffic and serene dirt roads, a monastery and a distillery, baseball, and yes, lots of pie.
By the time they reach Washington, DC, two months after leaving Portland, Oregon, they've bonded in a rare way. Kurmaskie
writes, "We share a secret, the three of us; one permanent summer in our hearts now, where we're never apart."

Breakaway Books, 9781891369650, 318pp.
Publication Date: September 1, 2006
About the Author
Joe Kurkaskie is the author of Metal Cowboy (Breakaway, 1999) and Riding Outside the Lines (Crown 2001).