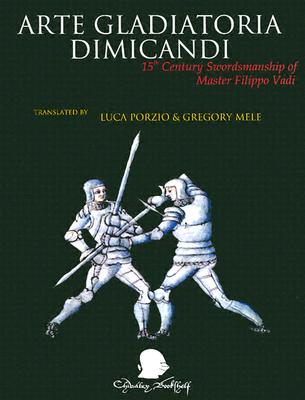 Arte Gladitoria Dimicandi: 15th Century Swordsmanship of Master Filippo Vadi (Hardcover)
15th Century Swordsmanship of Master Filippo Vadi
Chivalry Bookshelf, 9781891448164, 200pp.
Publication Date: January 1, 2010
* Individual store prices may vary.
or
Not Currently Available for Direct Purchase
Description
For the first time, a color fascimile and translation will be available from this important 15th century master of late Italian Medieval swordsmanship. Master Fillipo Vadi's work, previously overlooked and underestimated by fencing scholars, presents the student of historical swordsmanship or of miltiary history a fresh, stunningly beautiful look into the mind of an Italian fencing master.Accompanying the exquisitely wrought text, finely translated by Luca Porzio, are 56 color plates showing many of the techniques explained in the chapters and by other historical masters, but in this case, with such a beautiful rendering that they are works of art unto themselves.An absolute must for the bookshelf of anyone interested in the history of fencing or late medieval warfare, this rich volume will also appeal to collectors of illuminated manuscripts, reeactors, and literary traditions of 15th century Italy.
Advertisement