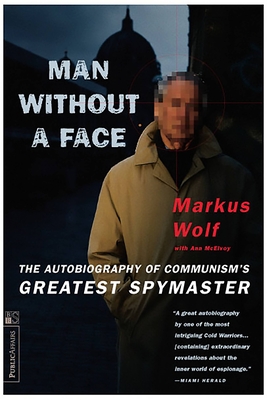 Man Without A Face
The Autobiography Of Communism's Greatest Spymaster
Paperback

* Individual store prices may vary.
Description
For decades, Markus Wolf was known to Western intelligence officers only as "the man without a face." Now the legendary spymaster has emerged from the shadows to reveal his remarkable life of secrets, lies, and betrayals as head of the world's most formidable and effective foreign service ever. Wolf was undoubtedly the greatest spymaster of our century. A shadowy Cold War legend who kept his own past locked up as tightly as the state secrets with which he was entrusted, Wolf finally broke his silence in 1997. Man Without a Face is the result. It details all of Wolf's major successes and failures and illuminates the reality of espionage operations as few nonfiction works before it. Wolf tells the real story of Gunter Guillaume, the East German spy who brought down Willy Brandt. He reveals the truth behind East Germany's involvment with terrorism. He takes us inside the bowels of the Stasi headquarters and inside the minds of Eastern Bloc leaders. With its high-speed chases, hidden cameras, phony brothels, secret codes, false identities, and triple agents, Man Without a Face reads like a classic spy thriller—except this time the action is real.
PublicAffairs, 9781891620126, 460pp.
Publication Date: June 4, 1999
About the Author
Markus Wolf was the head of East Germany's Foreign Intelligence Service. Born in rural Western Germany in 1923, Wolf fled from the Nazis to the Soviet Union. He came of age in Moscow in the 1940s and was picked out by the Party to be returned to the war-ravaged Germany for its political restructuring. Wolf quickly rose through the ranks of East Germany's foreign intelligence operations. He left the Stasi in 1986, three years before its collapse. He passed away in 2006.