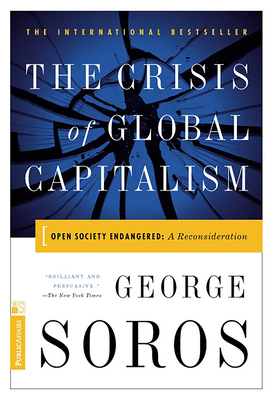 The Crisis Of Global Capitalism
Open Society Endangered
Hardcover

* Individual store prices may vary.
Description
The global economy, on which the world now depends more than ever, is in crisis. The Russian economy has collapsed, leading to punishing inflation and economic hardship. Scores of Japanese banks are in ruin while the Japanese government muddles along, the nation falling deeper and deeper into recession. The once-booming economies of Thailand, Malaysia, and Indonesia have imploded. Brazil and the rest of Latin America has begun to edge toward the precipice, and even in Europe and America the markets lurch violently, wiping out gains with each passing week.

No one is better positioned to explain the current global financial crisis than George Soros, the man Morgan Stanley head Barton Biggs calls "the finest analyst of the world in our time." In The Crisis of Global Capitalism, Soros, chairman of Soros Fund Management (whose Quantum Fund is considered to have been the best performing investment fund in the world over the past thirty years), dissects the current crisis and economic theory in general, revealing how theoretical assumptions have combined with human behavior to lead to today's mess. He shows how unquestioning faith in market forces blinds us to crucial instabilities, and how those instabilities have chain-reacted to cause the current crisis—a crisis that has the potential to get much, much worse. Offering brilliant solutions to the global meltdown, based on years of Soros's own experience as a financier and philanthropist, this is essential reading for anyone involved with the new economy—that is, all of us.
PublicAffairs, 9781891620270, 288pp.
Publication Date: December 11, 1998
About the Author
George Soros heads Soros Fund Management and is the founder of a global network of foundations dedicated to supporting open societies. The author of several previous bestselling books, including The Alchemy of Finance and Soros on Soros, he lives in New York City.