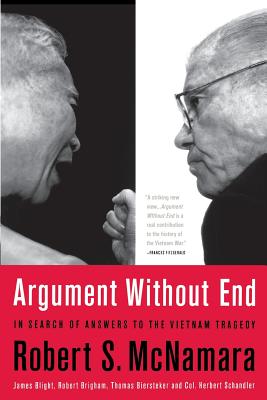 Argument Without End
In Search of Answers to the Vietnam Tragedy
Paperback

* Individual store prices may vary.
Description
Did the Vietnam War have to happen? And why couldn't it have ended earlier? These are among the questions that Robert McNamara and his collaborators ask in Argument Without End, a book that will stand as a major contribution to what we know about the Vietnam War. Drawing on a series of meetings that brought together, for the first time ever, senior American and Vietnamese officials who had served during the war, the book looks at the many instances in which one side, or both, made crucial mistakes that led to the war and its duration. Using Vietnamese and Chinese documents, many never before made public, McNamara reveals both American and Vietnamese blunders, and points out ways in which such mistakes can be avoided in the future. He also shows conclusively that war could not be won militarily by the United States. McNamara's last book on Vietnam was one of the most controversial books ever published in this country. This book will reignite the passionate debate about the war, about McNamara, and about the lessons we can take away from the tragedy.
PublicAffairs, 9781891620874, 512pp.
Publication Date: May 19, 2000
About the Author
Robert S. McNamara was Secretary of Defense to Presidents John F. Kennedy and Lyndon B. Johnson, 1961-1968.

James G. Blight is professor of international relations (Research), Thomas J. Watson Jr. Institute for International Studies, Brown University.

Robert K. Brigham is associate professor of history, and director of the Program in International Relations, Vassar College.

Thomas J. Biersteker is director, Thomas J. Watson Jr. Institute for International Studies, and Henry Luce Professor of Transnational Organizations, Brown University.

Colonel Herbert Y. Schandler (USA Ret.) is professor in the Department of Grand Strategy, Industrial College of the Armed Forces, National Defense University, Washington, D.C.