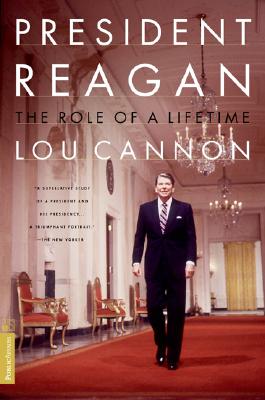 President Reagan (Paperback)
The Role Of A Lifetime
PublicAffairs, 9781891620911, 920pp.
Publication Date: March 31, 2000
* Individual store prices may vary.
Description
Hailed by the New Yorker as "a superlative study of a president and his presidency," Lou Cannon's President Reagan remains the definitive account of our most significant presidency in the last fifty years. Ronald Wilson Reagan, the first actor to be elected president, turned in the performance of a lifetime. But that performance concealed the complexities of the man, baffling most who came in contact with him. Who was the man behind the makeup? Only Lou Cannon, who covered Reagan through his political career, can tell us. The keenest Reagan-watcher of them all, he has been the only author to reveal the nature of a man both shrewd and oblivious. Based on hundreds of interviews with the president, the First Lady, and hundreds of the administration's major figures, President Reagan takes us behind the scenes of the Oval Office. Cannon leads us through all of Reagan's roles, from the affable cowboy to the self-styled family man; from the politician who denounced big government to the president who created the largest peace-time deficit; from the statesman who reviled the Soviet government to the Great Communicator who helped end the cold war.
About the Author
Lou Cannon covered Reagan for thirty-six years, first as a reporter for the San Jose Mercury News, later as the Washington Post White House correspondent. He is the author of four other books on Reagan including Ronnie and Jesse: A Political Odyssey, Reagan, and President Reagan: The Role of a Lifetime, widely regarded as the definitive biography and as "the best study of that enigmatic presidency " (New York Times Book Review). He lives in Summerland, California, near Santa Barbara.
Praise For President Reagan: The Role Of A Lifetime…
New York Times, January 9, 2011
"Authoritative… If Obama actually read Cannon, his comeback could have legs. It's full of leadership lessons that will be particularly useful in outfoxing political adversaries who seem not to have consulted so much as a picture book about the president they claim as their patron saint."
or
Not Currently Available for Direct Purchase