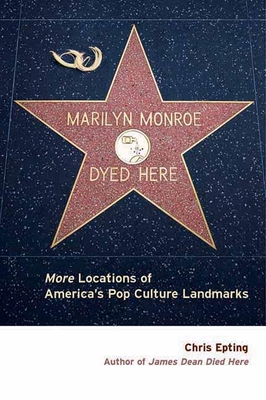 Marilyn Monroe Dyed Here
More Locations of America's Pop Culture Landmarks
Paperback

* Individual store prices may vary.
Description
Provides an entertaining and informative journey inside America's pop culture landmarks and events, including the salon where Marilyn Monroe first dyed her hair blonde and the birthplace of the hot fudge sundae, among other not-to-be-missed locales.
Santa Monica Press, 9781891661396, 312pp.
Publication Date: May 1, 2004
About the Author
The author of Led Zeppelin Crashed Here, Chris Epting has published nine books in all, including: The Ruby Slippers, Madonna's Bra, and Einstein's Brain, James Dean Died Here, Marilyn Monroe Dyed Here, Elvis Presley Passed Here, and Roadside Baseball. He has contributed articles for such publications as the Los Angeles Times, Travel + Leisure, and Westways magazine, and is the travel editor for Chicken Soup for the Soul Magazine. Originally from New York, Chris now lives in Huntington Beach, California, with his wife and their two children.