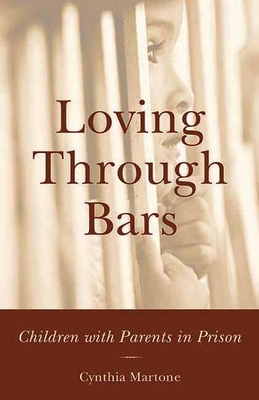 Loving Through Bars
Children with Parents in Prison
Hardcover

* Individual store prices may vary.
Description
An estimated 2.3 million children in the United States have a parent in prison-children whose lives are filled with a unique kind of instability and uncertainty.
These children are themselves victims of their parents' crimes, members of a neglected segment of our population who are potentially damaged by stigma and shame and who are at risk of being pulled into a vicious cycle of future criminality and deviant social behavior. Such children are child prisoners-kids who must learn to understand living and loving through bars.
In "Loving Through Bars: Children with Parents in Prison," Cynthia Martone offers a searing and poignant view of these unfortunate kids, presenting their particular plights through a series of stories.
Among the people readers will meet are a little girl who chats with murderers at Attica Prison while visiting her father, the recently released prisoner who has seven children by five different mothers, and the second-grader whose dad regularly calls him from jail and encourages him to put a pillow over his mother's head at night in order to kill her.
Written by an experienced public school administrator-Martone has been awarded the Outstanding Educator Award for the State of New York-this examination of the instability and uncertainty that plague children of prisoners chronicles their attempts to cope and presents a possible starting place for societal response.
Santa Monica Press, 9781891661488, 204pp.
Publication Date: January 1, 2005
About the Author
Cynthia Martone has been a public school administrator in a remote Eskimo village in Alaska, and in Rochester, New York where she was awarded the Outstanding Educator Award for the State of New York. She has spoken at both national and state conferences as well as written about children who have parents in prison. Her work has appeared in Education Week, Journal of School Administrators Association of New York State, and The Teacher Magazine. She now resides in Erie, Pennsylvania where she is principal of Villa Maria Academy High School.