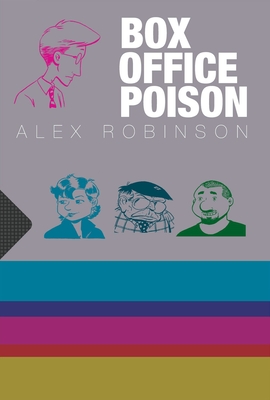 Box Office Poison (Paperback)
Top Shelf Productions, 9781891830198, 608pp.
Publication Date: May 1, 2001
* Individual store prices may vary.
Description
This epic story of Sherman, Dorothy, Ed, Stephen, Jane, and Mr. Flavor is not to be missed. Alex Robinson's completely natural and inspiring knack for dialogue has made his story of dreary jobs, comic books, love, sex, messy apartments, girlfriends (and the lack thereof), undisclosed pasts, and crusty old professionals one of the most delightful and whimsical graphic novels to hit the stands in years.
About the Author
Alex Robinson has written and illustrated several graphic novels, including Too Cool to Be Forgotten, Box Office Poison, Tricked, and Our Expanding Universe. He and his work have won several industry awards, including the prestigious Eisner Award and prize for best debut in Angouleme, France. Space considerations prevent us from listing the awards Robinson has lost, unfortunately. He lives in New York City with his wife and their pets, and hopes to have another book out soon.
Praise For Box Office Poison…
"A convincing, absorbing and satisfying fictional portrait of post-college life in New York City." —Publishers Weekly

"A salute to comics, an exploration of the human condition, and a solid, absorbing, and riotously snide tale about at least half of the things that make life important." —Tasha Robinson, The AV Club

"Box Office Poison is a novel complex enough to provoke Book Talk. I even marked panels with post-it notes as I was reading so that I'd remember to show them to my friends." —Kelly Sue DeConnick, Bitch Planet

"The comic book equivalent of the world's best pineapple upside-down cake: layer upon layer of rich dramatic goodness." —Matthew Craig, Robotfist.com

"Box Office Poison is to the comic book culture as Almost Famous is to that of rock and roll." —Chris Tamarri, The Daily Targum