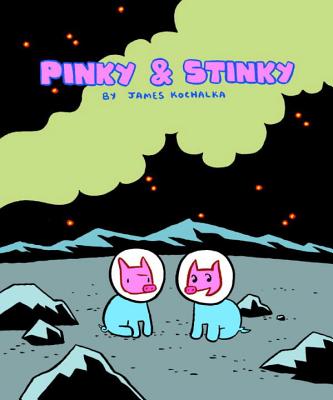 Pinky & Stinky (Paperback)
Top Shelf Productions, 9781891830297, 208pp.
Publication Date: July 1, 2002
* Individual store prices may vary.
Description
Pinky and Stinky are fat little piglets, but just because they're cuties doesn't mean they're not brave astronauts They embark on a daring mission to be the first pigs on Pluto, but things go horribly wrong as soon as the journey begins. Crash landing on the moon, they find themselves playing a pivotal role in the American space program. This is an unabashedly fun book, like Star Wars mixed with Pokemon - if you can believe that.
About the Author
JAMES KOCHALKA is, without question, one of the most unique and prolific alternative cartoonists working in America today. His comics have been published internationally by almost every alternative comics publisher; he's recorded several music albums under the name James Kochalka Superstar (making him a favorite at college radio stations across the country); and he's developed animated cartoons for Nickelodeon and Cartoon Hangover. He is the first official Cartoonist Laureate of the state of Vermont, appointed in 2011. Among his best known works are the Monkey vs Robot series, the superpowered frathouse comedy SuperF*ckers, the beloved children's series Johnny Boo, Dragon Puncher, and Glorkian Warrior, and his magnum opus, the 14-year span of daily diary comics known as American Elf.
or
Not Currently Available for Direct Purchase