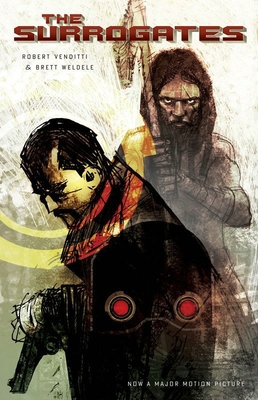 The Surrogates: Volume 1 (Paperback)
Volume 1
Top Shelf Productions, 9781891830877, 208pp.
Publication Date: September 12, 2006
Description
The year is 2054, and life has been reduced to a data feed. The fusing of virtual reality and cybernetics has ushered in the era of the surrogate, a new technology that lets users interact with the world without ever leaving their homes. It's a perfect world, and it's up to Detectives Harvey Greer and Pete Ford of the Metro Police Department to keep it that way. But to do so they'll need to stop a techno-terrorist bent on returning society to a time when people lived their lives instead of merely experiencing them. Welcome to The Surrogates, a daring, five-issue, full-color miniseries from Top Shelf Productions. First released ten years ago, when social media was in its infancy, The Surrogates anticipated numerous trends that have emerged with the ever-increasing confluence of technology and social connection. Nowhere is this more evident than in its exploration of identity, remote interaction, and the masks we hide behind. Now is the time to discover--or rediscover--this ground-breaking modern classic; it's never been more relevent.
About the Author
Robert Venditti is the New York Times best-selling author of The Homeland Directive and the sci-fi graphic novel The Surrogates, which was adapted into a feature film. He has written the monthly comic book series X-O Manowar and Wrath of the Eternal Warrior for Valiant Entertainment, and Green Lantern and The Flash for DC. He currently writes Hal Jordan and the Green Lantern Corps, as well as the children's novel series Miles Taylor and the Golden Cape.
Advertisement