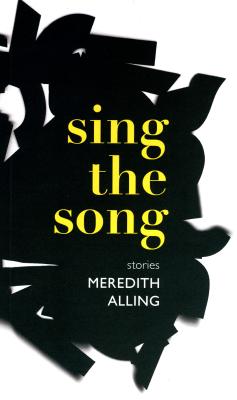 Sing the Song (Paperback)
Future Tense Books, 9781892061805, 100pp.
Publication Date: November 18, 2016
* Individual store prices may vary.
Description
After steadily garnering attention and gaining fans with her appearances in various magazines and websites, Meredith Alling comes out with her debut collection of stories, Sing the Song. For fans of writers like Diane Williams, Amy Hempel, Lydia Davis, Ben Marcus, and Amelia Gray, Alling's debut will signal the arrival of a new unique voice in fiction. Featuring 27 stories in 130 pages, Alling's collection is propulsive, dangerous, often funny, and powered by a language that wrestles with anxiety and the unexpected surrealism of modern life. With an ancient ham crawling out from a sewer to tell fortunes, a lone blonde at a party for redheads, and a mother outsmarting a masked criminal, Sing the Song bleeds and breathes with dreamlike surprise.
About the Author
Meredith Alling lives and works in Los Angeles. Her short fiction has appeared in Tin House, No Tokens, The Fanzine, Spork, The Guardian, and elsewhere.
Praise For Sing the Song…
"Small, intricate, diamond-perfect stories that glow with mystery and joy. I love this book."– Ben Loory, author of Stories for Nighttime and Some for the Day

"Bold, hilarious, beautifully strange, consistently surprising, and brilliantly unique — this collection asserts Alling as a daring new American voice."– J. Ryan Stradal, New York Times bestselling author of Kitchens of the Great Midwest

"Meredith Alling is viscously mesmerizing. She takes reality and crumbles it up tight in her hands, wringing and smashing and squeezing it to death and when she opens her hands there is a bright flash and music bursting out of everything. Sing the Song is incredible, it devours normal."– Bud Smith, author of F250

"How did she do this? Meredith Alling made the world look different for a time. Sharper, funnier, more tender and alive. All by the power of these stories. And prose so daring and original it's as if she invented a new language. Sing the Song is a brilliant debut by one of our best, new writers. Read it."– Kathy Fish, author of Rift (co-authored with Robert Vaughan) and Together We Can Bury It