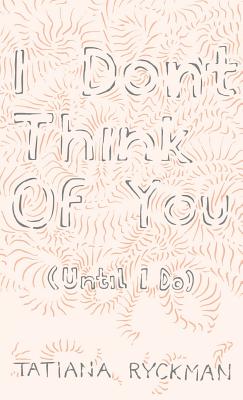 I Don't Think of You (Until I Do) (Paperback)
Future Tense Books, 9781892061812, 116pp.
Publication Date: September 7, 2017
* Individual store prices may vary.
Description
Exploring the narcissism inherent in infatuation, exposing the awkward, disorienting state of passion, and articulating the comic nature that permeates the melodrama of our existence, I Don't Think of You (Until I Do) is a needed novella of our time. Tatiana Ryckman chronicles the struggles of a long-distance relationship from summer to summer, forming a series of unsent musings to the beloved by the unnamed lover-- all while keeping names and gender anonymous. At times funny, this sexy, charged, and deeply felt novella captures what loving from a distance can bring upon all of us.
"With the publication of I Don't Think of You (until I do), Tatiana Ryckman has refused to join the long list of young writers afraid of saying something real, afraid of feeling something so deeply they might appear foolish. Instead she has joined the likes of Clarice Lispector, Claudia Rankine, and John Berger. Ryckman has written a book you will return to over and over, you will feel crushed by and then celebrated through, she has written a book we all should give (wrapped in fire) to our one true love."--Matthew Dickman, author of Mayakovsky's Revolver
"An elegiac and dirty and horribly beautiful examination of love and the lack of it; Ryckman has written the anti-love story within all of us. A book so earnest and sharp in its examination of heartbreak, it will make you ache for all the people you haven't even loved yet."--T Kira Madden, No Tokens