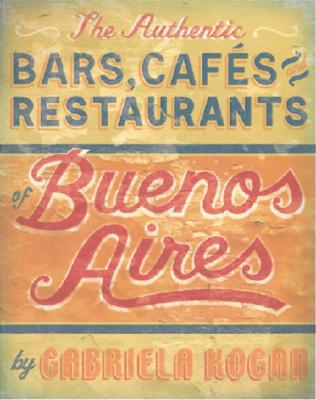 The Authentic Bars, Cafes and Restaurants of Buenos Aires (Paperback)
Little Bookroom, 9781892145550, 160pp.
Publication Date: May 27, 2008
* Individual store prices may vary.
or
Not Currently Available for Direct Purchase
Description
Modest prices, generous servings, friendly owners, and a devoted local clientele all define these cafes, bars, restaurants, and pizzerias where you can taste the traditional everyday cuisine of Argentina in authentic settings. New or old, each one of the seventy profiled here has details that make them worth visiting. Many were the settings for clandestine political meetings in the days before the May Revolution; others provided inspiration for the artists and writers, including Jorge Luis Borges, who frequented them. At one bar, the most prestigious young tango musicians of Buenos Aires gather nightly, and, after a few drinks and a few empanadas (made by the owner himself), spontaneously perform. There's a tiny parrilla-steak house-known not only for the best roasted meat at the best price but for its eternally festive atmosphere and chaotic charm. At another intimate pulperia, simple homemade meals are served communally at a wooden marble-top table. The Authentic Bars and Cafes of Buenos Aires also includes Gabriela Kogan's recommendations of what to eat at each venue, a map, and a glossary of Argentine food.
About the Author
Gabriela Kogan is a graphic designer based in Buenos Aires specializing in book design. Her studio has recently published Surtido, 268 Images of the Argentine Soul; Buenos Aires Populares; Surtido P. 233 20th-Century Graphic Advertisements from Argentina; and Viejo Buenos Aires under her imprint Del Nuevo Extremo.
Praise For The Authentic Bars, Cafes and Restaurants of Buenos Aires…
"I love Buenos Aires even when I am not reminded how much I love it. So how could I not wax poetic about The Authentic Bars, Cafes and Restaurants of Buenos Aires by Gabriela Kogan. Beautiful black and white photos complement insights on neighborhoods and advice on the best (what isn't good in BA?) things to eat and drink." --The San Francisco Examiner

"To get to know the heart and soul of Buenos Aires, author Gabriela Kogan insists you need to know its cafes, bars and restaurants. And yet, like most of the big cities around the world, Buenos Aires, too, is facing an uphill battle to maintain its distinctive establishments. Until the 1970s virtually every block had its own cafe. Because of gentrification, various economic crises and other reasons, family businesses are struggling to survive. But the establishments Kogan has chosen counter that trend and still function as meeting places and hangouts. Some specialize in home cooking; others are more specific: steakhouses, pizzerias and coffeehouses. Includes a glossary of food-related items." --The Chicago Tribune
Advertisement