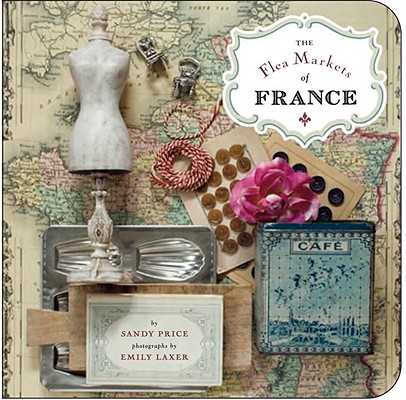 The Flea Markets of France (Paperback)
Little Bookroom, 9781892145598, 248pp.
Publication Date: March 10, 2009
* Individual store prices may vary.
or
Not Currently Available for Direct Purchase
Description
A visit to a flea market can be the highlight of a trip to France: a lively encounter with everyday French culture, an exciting way to spend a few hours, and a chance to pick up a unique souvenir or add to a collection. The Flea Markets of France is the indispensable tool for getting the most out of your visit, whether you're a first-time visitor or an experienced shopper. Conversational and comprehensive, this guide will tell you everything you need to know about exploring markets all over France. Descriptions of more than thirty markets and their specialties, as well as practical advice on visiting them, is augmented by notes on regional items, tips on bargaining and collecting, a glossary of relevant French phrases, and a useful rating system which gives an overview of each market. Much more than a simple listing of French flea markets, Sandy Price's warm suggestions of things to do nearby, places to eat, food specialties of the area, and local amenities are complemented by bits of history and cultural observations. Armed with this comprehensive guide, visitors to France will feel they are in good, reliable hands.
About the Author
Sandy Price is an attorney living in Canada. She has lived and traveled extensively in France. Originally from Toronto, Emily Laxer has spent several years in France. During her early childhood, she lived with her family in a small village in Provence, where she went to the local one-room school. As a teenager, she returned to Menton in the C(TM)te d'Azur. She attended college in Montreal, and most recently began a PhD in sociology at the University of Toronto.
Praise For The Flea Markets of France…
"This attractive little book is a great resource for anyone who enjoys the thrill of the hunt. Laxer covers flea markets in every region of France (including Paris), rating them for their value, visual appeal and nearby amenities. She also explains what collectibles to look for at each venue and offers suggestions on neighborhood cafes, restaurants, bakeries and museums." --France Magazine

"...wherever you set out from, you will want to follow her lead if you are a flea-market fanatic." --House & Garden (London)

"Whether you're searching for a simple souvenir or a serious collectible, flea markets are a way to connect with real life in Gallic culture. Sandy Price, author of The Flea Markets of France, helps bargain hunters land that perfect piece." --National Geographic Traveler

"Little Bookroom, part of the tweedy New York Review of Books, publishes whimsical guidebooks to the civilized pleasures of Western culture capitals. The Flea Markets of France is the latest addition to the series, and undoubtedly one of the best. From Rouen to Paris to Avignon, Sandy Price lays out the fundamentals of those congregations for lovers of castoffs and forgotten treasures—glazed ceramic vases, rustic farmhouse furniture, Art Nouveau patio sets. The book has all the details you need to plan your own flea market Tour de France, including schedules, locations, notes about prices and offerings, tips on restaurants for a restorative repast, and other sites to visit nearby. The book is as satisfying a find as anything you'll discover amid the dusty heaps." --Ralph Lauren Magazine
Advertisement