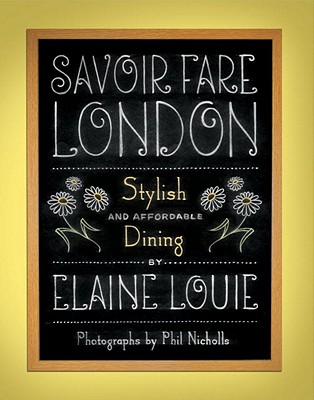 Savoir Fare London: Stylish Dining for Under $25.00 (Paperback)
Stylish Dining for Under $25.00
Little Bookroom, 9781892145659, 192pp.
Publication Date: November 1, 2008
* Individual store prices may vary.
or
Not Currently Available for Direct Purchase
Description
It's easy to find a great meal in London, and–with the exchange rate and soaring prices–easier yet to find a meal that is ruinously expensive. But what fun is that? Enter Elaine Louie, a New York Times staffer who writes on food, design, and style. What better person to suss out the spots where the most stylish of Londoners dine while staying solvent? Tracking down leads from architects, curators, designers, and other sources with discriminating taste and exacting palates, Louie profiles fifty venues that would be considered great finds at any price and where a meal (not counting tip and beverage) can be enjoyed for less than $25. The restaurants range across ethnicities, and include a substantial number of traditional British and Continental restaurants. They deliver on decor (cool, charming, and/or beautiful) and the food (not necessarily three-course meals, but sometimes more modern, light dining) is always memorable. Follow the leads of fashionable epicures to: 
• Baker & Spice, a chic spot favored by the impeccably dressed "yummy mummies," young mothers who savor the best quiches in London and golden-crusted meat pies filled with baby veggies fresh from the British countryside• the "darling and simple café" atop four floors of fashion in the hip Dover Street Market, centrally located near Bond Street• Crazie Homies in hip Westbourne Grove, where the food is inspired by street vendors and taquerias found throughout Mexico and is freshly made from authentic recipes–try the potent yet refreshingly smoky margaritas• Jin Kichi, the tiny Hampsted eatery, bedecked with red paper lanterns, where the delectable fare means the place is usually filled with Japanese expats

The venues are located in city-central locations and hip neighborhoods and a few of the best are even tucked away in museums and department stores, making this a highly practical guide for travelers who need to plan their time efficiently. In addition to the fifty restaurants with full profiles, the author has included short descriptions of another two dozen places worth visiting.
About the Author
Elaine Louie is a writer on staff at "The New York Times," contributing to the paper's House & Home, Dining, and Sunday Styles sections. She is the author and co-author of many books, including "The Shun Lee Cookbook," "House Beautiful: Collections on Display," "Living with Textiles," "Living in New England," "Martha Stewart Living: Great Parties," and "Premier Beer: A Guide to America's Best Microbrews." She won the 1995 James Beard Journalism Award for a series of articles on ethnic cuisine in New York City.

Phil Nicholls was born in Cornwall and studied fine art at Falmouth and Bath. He joined weekly music magazine "Melody Maker" in 1985 and over the next twelve years became renowned for his portraits of rock celebrities. Nicholls's photography book, "Classic Cafes" (Black Dog Publishing, 2003), is a study of London's "greasy spoon" cafe culture. His photographs appear in The Little Bookroom's "The Traditional Shops and Restaurants of London" by Eugenia Bell.
Praise For Savoir Fare London: Stylish Dining for Under $25.00…
Even with the pummeled pound, getting out of a restaurant in London that cheaply strikes me as depressing and possibly illegal. But Elaine has managed to sniff out a wide range of excellent, affordable, attractive places — and not just in deepest darkest Shoreditch...Each entry in this adorable, slightly-larger-than-pocket-size book comes with a short review, suggestions for when to go and what to order and some very nice Phil Nicholls photos, not one of them of formica tables or fluorescent lights." --The Moment, The New York Times Magazine blog

"Elaine Louie singles out 50 spots for Stylish Dining under $25.00. When you see how humble some of these feederies are in the revealing photographs – pastry shops, burger joints, chocolate shops, department stores - you'll be reminded how expensive London is and be impressed she found anything. Some travelers need to eat cheap but for others, dedicated to splurge at dinner, Louie's finds will seem perfect for lunch or a snack." --Gael Greene

"What could be more fitting in tough times than a guide to saving money? High-priced London has a way of making visitors feel poor even when they're not. This little book...is chock full of cheap-eats destinations, all serving meals under $25 (U.S.)." —The Globe and Mail

"Being in London makes me so happy....But the prices are so high! When I discovered this new little book, I pounced--and booked a flight." --Ruth Reichl, Gourmet

"If you're looking for cheap eats, Savoir Fare London: Stylish Dining for Under $25 by Elaine Louie...might do the trick." --The New York Times

"A tasteful, eclectic compilation of 50 affordable, yet delicious restaurants, bakeries and bars with loads of style. Author Elaine Louie solicited suggestions from some of England's top tastemakers, among them Peter Ting, (a crystal and porcelain designer at Asprey who also went to cooking school) and gallerist Libby Sellers. The entries read like e-mails you'd send to a close friend, all packed with insidery details like what to order, where to book in advance and where to people watch." --Mouthing Off, A Food+Wine Magazine blog
Advertisement