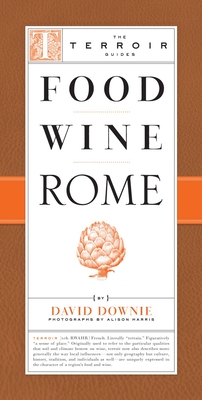 Food Wine Rome (Paperback)
Little Bookroom, 9781892145710, 384pp.
Publication Date: April 7, 2009
* Individual store prices may vary.
Description
Food Wine Rome is a tightly focused guidebook and traveler's companion to the culinary delights of Rome. For each neighborhood, listings are in three categories: 1) dining: restaurants, trattorie, osterie; 2) gourmet shopping: bakeries, markets, salami makers, cheesemongers, and more; 3) wine: shops and wine bars. A dozen or more sidebars add entertaining and informative bits of city lore, culture, customs, quotes, and anecdotes to bring alive the city's historic culinary richness: the Roman love affair with artichokes; the watermelon festival held for years on August 24, when giant, ripe watermelons would be released into the river upstream and Roman kids would dive into the river to grab them; Lucullus' Kitchen Garden; the Cacio e Pepe Family of Pastas; the cult of the strawberries of Nemi (one of whose devotees was Caligula); Papal cuisine; the Renaissance of Rome's wines; Holy Water and the Aqueducts; Spring Fever (lamb, favas, artichokes, zucchini flowers); and dozens more.

A glossary of essential Roman/Italian food terms helps make shopping, marketing, and eating fun and rewarding. It is illustrated with scores of atmospheric photographs and an overall map of central Rome, plus detailed maps for each of Rome's nine central neighborhoods, so that readers can find addresses immediately.
About the Author
David Downie is a native San Franciscan, but has called Paris home since 1986. His travel, food, and arts features have appeared in more than fifty magazines and newspapers worldwide. His books include Food Wine The Italian Riviera & Genoa, The Irreverent Guide to Amsterdam, Enchanted Liguria, and the critically acclaimed Cooking the Roman Way. He is the author of a quirky crime novel, La Tour de l'Immonde, published in Paris.

Alison Harris has worked throughout the world shooting photos for travel books, cookbooks, advertising campaigns, book covers, and magazine stories. Her latest books, Markets of Paris, The Pâtisseries of Paris, Chic Shopping Paris, Food Wine The Italian Riviera & Genoa, and The Hidden Arcades of Paris (Spring 2009) are published by the Little Bookroom.
Praise For Food Wine Rome…
"...an invaluable key to the city's authentic quaffs and cuisines. Eschewing eateries that are likely to be visited by the typical bus-group turiste, Downie walks readers through bountiful food markets, into artisanal-food shops and to the front doors of Rome's temples of food and drink. The reviews in this highly informative restaurant guide, accompanied by Alison Harris's photographs, also celebrate the people, customs and tastes that tempt so many travelers to eat as discriminating Romans do." --Town & Country

"Italian food guru David Downie wrote the recently published Food Wine Rome. It's an insightful and lovingly written guide to my former home town one of Italy's great food capitals. He starts out with some important definitions of classic Roman treats like local bitter vegetables, goes into 33 ways to order some of the best coffee you will ever drink and highlights some of the region's top wine producers...The bulk of Downie's book focuses on restaurants, wine bars and food shops of this food-crazed town." --The Examiner (San Francisco)

"Getting to the heart of regional cuisine can be a tall order, but The Terroir Guides ably examine the interplay between markets, local food artisans, winemakers, and chefs on a town-by-town basis, taking the reader from field to plate and making a great companion for any food-obsessed tourist...packed with local history, food lore, and useful translations." --Sherman's Travel

"When I travel, food is naturally a primary focus, but most guidebooks provide minimal information in that realm. Thankfully, The Little Bookroom is publishing Terroir Guides, a series for the foodie traveler that focuses entirely on culinary delights. The third in the series, Food Wine Rome, just came out this month...Even though I'm not actively using the guide on the ground, it's a fun, informative read that's prompting me to plot out all the gastronomic destinations for my next visit." --Cravings

"I love The Terroir Guides. They give me everything I want. They're a tactile pleasure, compact, meaty. They're lovely to look at, elegantly laid out, mutedly and tastefully colored...positively overflowing with the Who, What, Where and How even an intrepidly independent traveler should know...The Little Bookroom has a knack for putting guidebooks into print that are as useful as they are beautiful." --Wine News
or
Not Currently Available for Direct Purchase