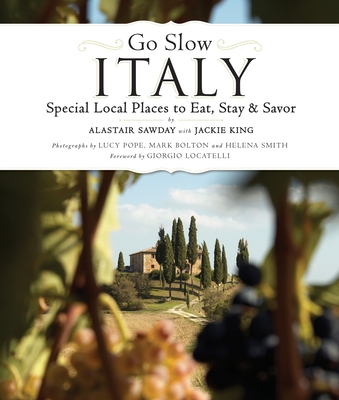 Go Slow Italy (Paperback)
Little Bookroom, 9781892145819, 233pp.
Publication Date: October 13, 2009
Description
Italy, the birthplace of the Slow movement and the home of Slow Food, is a natural as the second destination in our new Slow series. Alastair Sawday has handpicked forty-six exceptional places to stay-places where attention is lavished on some of the most important things in life: convivial meals, community, a respect for the environment, and a celebration of regional distinctiveness. From the mountainous north, through cypressdotted Tuscany, and on down to the gutsy, colorful south, you'll discover innkeepers and cooks that have an unmatched passion for Slow Travel and Slow Food, and whose hospitality embody their commitment to the finest accommodations and food. Go Slow Italy celebrates fascinating people, fine architecture, history, landscape, and real food.
About the Author
Alastair Sawday is a UK writer and publisher who focuses on environmental issues. He has led tours through France, guided disaster relief teams in Turkey, worked for an international charitable relief organization in Papua New Guinea, and, in 1992, stood for Parliament with the Green Party. In 2006 his publishing company was awarded a Queen's Award for Sustainable Development. His book Go Slow England was published by The Little Bookroom in 2008. Chef Giorgio Locatelli has worked at the Savoy Hotel in London, and La Tour d'Argent and Laurent in Paris. Back in London, as head chef at Zafferano, he earned his international reputation and first Michelin star. In 2002 he opened his first independent venture, Locanda Locatelli, which was awarded a Michelin star in 2003.
Praise For Go Slow Italy…
"The guide, which reads like the journal of a friend who has vetted Italy's finest offerings, describes intimate accommodations from the Veneto to Sicily, all of which embrace the sustainable-food movement...You'll bond with inkeepers and vinters--who just might divulge the secret of living la dolce vita." --Town and Country

"Spiritual home of the Slow Food movement, Italy has always attracted those seeking a simpler, more leisurely way of life. Now visitors can share the fruits of this passion at idyllic farmhouses and rural hotels across the country." --The Guardian (London)

"Beautifully illustrated with atmospheric photography....Packed with practical information, every destination has a tale to tell, and the intimate, anecdotal style is eminently readable...The book has a peaceful, measured cadence, very much like the pace of life in these hidden oases of calm. A sprinkling of delicious local recipes adds a delightful personal touch."  --Italia!
Advertisement