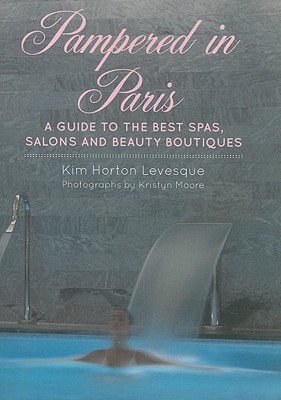 Pampered in Paris: A Guide to the Best Spas, Salons and Beauty Boutiques (Paperback)
A Guide to the Best Spas, Salons and Beauty Boutiques
Little Bookroom, 9781892145864, 231pp.
Publication Date: May 11, 2010
* Individual store prices may vary.
or
Not Currently Available for Direct Purchase
Description
In "Pampered in Paris," you'll find profiles and photographs of more than fifty of the city's premier spas, makeup and beauty salons, manicure and pedicure bars, perfume boutiques, and thermal baths and thalassotherapy treatment centers, arranged by arrondissement. The guide also offers complete descriptions and recommendations for each venue's treatments and products, and advises readers how to navigate the cultural nuances of spa etiquette. It provides a glossary of words and expressions to clarify differences in French spa and salon terminology. "Pampered in Paris "also takes readers to the French pharmacy to discover inexpensive products beloved by Parisians that keep them looking their best. Other sidebars include what to Expect at French Spas and Salons, Chromotherapy, Spa Cuisine, Beauty on the Fly, and Hydrotherapy. Two glossaries of useful terms (Skincare and Makeup, Spa and Institut) are included to help any visitor feel knowledgeable and comfortable.
About the Author
Kim Horton Levesque is a professional writer and French translator. She has worked primarily in the U.S. beauty industry for the past three years. She has a background in teaching and journalism, and is now focusing on travel writing. Kim spent many years studying, traveling and working in France and Western Europe and continues to be an avid traveler. She lives in Phoenix, Arizona, with her husband and three daughters. Book updates can be found at www.kimlevesque.com. Kristyn Moore is a U.S.-based photographer who specializes in interiors, architecture, still life, and natural-light portraiture. Having studied photography at a young age, she pursued her art and developed her style while living in Europe. Her work can be viewed at www.kristyn-moore.com
Praise For Pampered in Paris: A Guide to the Best Spas, Salons and Beauty Boutiques…
"In Paris, it's not just hotels touting treatments. There are spas and beauty salons crowding every street. If you would like to learn more about them, you need to consult Pampered In Paris: A Guide To The Best Spas, Salons And Beauty Boutiques. It provides an arrondissement-by-arrondissement guide to who offers what and where." --The Mail on Sunday (London)

"Author Kim Horton Levesque researched more than 50 establishments whose makeup, perfume and skin treatments are dear to the heart of fashionable Parisian women. Naturally, such experiences can be intimidating -- think going to the fragrances counter at your local upscale department store and multiply by 100 -- so Levesque offers advice on spa etiquette. She also provides a glossary of useful terms so travelers will know the French for shimmer or anti-aging facial." - Pittsburgh Tribune Review
"For a tantalizing overview of the Paris Spa experience, pick up a copy of Kim Horton Levesque's  Pampered in Paris: A Guide to the best Spas, Salons and Beauty Boutiques. Illustrated with attractive photographs by Kristyn Moore, this little volume showcases 70 of the best places to indulge." – France Magazine
Advertisement