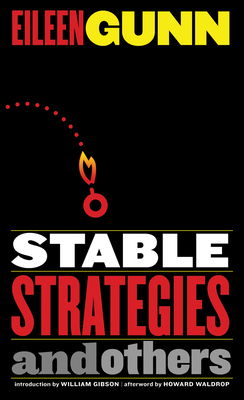 Stable Strategies and Others (Paperback)
Tachyon Publications, 9781892391186, 208pp.
Publication Date: September 1, 2004
* Individual store prices may vary.
Description
Warning--this dangerous collection of subversive science fiction tosses well-aimed bombs at deserving targets. Here you can climb the corporate ladder using homicidal bioengineering, attempt ideological recipes for theoretical desserts, or simply try to survive Kurt Cobain High. In her much-lauded first collection, award-winning author Eileen Gunn (Questionable Practices) tackles politics, identity, and technology with intelligence, wit, and crackling energy.
About the Author
Eileen Gunn won a Nebula for one of the stories in her first collection, Stable Strategies and Others, and was nominated for another. The book was nominated for the Philip K. Dick and World Fantasy awards. She has also been nominated twice for the Hugo Award. Eileen has been the marketing director of Microsoft, a board member of the prestigious Clarion Writers Workshop, the publisher of The Infinite Matrix, and she maintains The Difference Dictionary, an online concordance to the Difference Engine by William Gibson and Bruce Sterling.
or
Not Currently Available for Direct Purchase