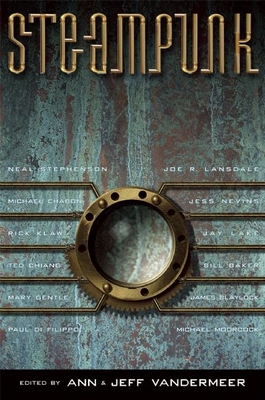 Steampunk
Paperback

* Individual store prices may vary.
Description
What is Steampunk? Steampunk is Victorian elegance and modern technology: steam-driven robots and space-faring zeppelins fueled by gaslight romance and mad scientists. Steampunk is trim corsets and brass goggles; The League of Extraordinary Gentlemen, The Wizard of Oz, and The Golden Compass. Curated by the World Fantasy award-winning team of Ann and Jeff Vandermeer, this riveting anthology lovingly collects classic steampunk stories, pop culture-fueled discussions of steampunk, and essential recommended reading lists for the discerning--or new--steampunk fan.
Praise For Steampunk…
"Highly recommended for all libraries that collect speculative fiction."  Library Journal
"VanderMeers, ardent steampunkers themselves, historically sample that fantasy genre, in which the Victorian era is reimagined to include Martian technology, steam-powered robots, airships, alchemy, and various anachronistic technologies."  Booklist
"Both fans of steampunk and readers for whom it's a foreign concept should find this collection rewarding." 
Kirkus Reviews
"Jeff VanderMeer is one of the most remarkable practitioners of the literary fantastic in America today." 
Locus
"It is as if a mad scientist had done all his shopping at Victoriana instead of Sharper Image . . . effectively captures what the steampunk genre is all about."  Los Angeles Times
"From the inception of Steampunk right up through today . . . a great book . . . I can't put it down."  boingboing.net
"This new collection of previously published stories spotlights some of the best short work in the subgenre."  San Francisco Chronicle
"If you want to go deeper into realms where high tech and the old world meet, be sure to pick up the Steampunk anthology edited by Ann and Jeff Vandermeer." 
San Francisco Examiner
Tachyon Publications, 9781892391759, 373pp.
Publication Date: May 1, 2008
About the Author
Ann VanderMeer is the Hugo Award?-winning editor of Weird Fiction Review. She was the fiction editor at Weird Tales and the publisher of Buzzcity Press, work for which received the British Fantasy, International Horror Guild, and Rhysling awards. An expert on Victoriana, she is the co-editor of the bestselling World Fantasy Award?nominated Steampunk series. Her other anthologies include the Best American Fantasy and Leviathan series, The Thackery T. Lambshead Pocket Guide to Eccentric & Discredited Diseases, The New Weird, and Last Drink, Bird Head. Jeff VanderMeer is the best-selling author of City of Saints and Madmen, the noir thriller Finch, and the quintessential guide to writers, Booklife. His award-winning novels have made the year's best lists at Publishers Weekly, the San Francisco Chronicle, and the Wall Street Journal. His nonfiction and reviews have appeared in Washington Post Book World, the Huffington Post, and the New York Times Book Review.