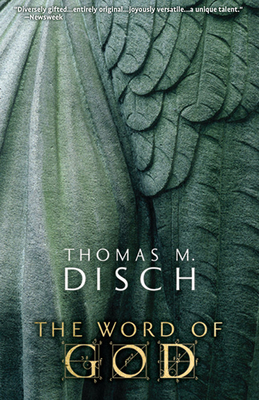 The Word of God
Or, Holy Writ Rewritten
Paperback

* Individual store prices may vary.
Description
Not since The Da Vinci Code
The only tome ever written by God Himself
INSPIRED BY ACTUAL EVENTS In this compelling memoir, the first and hopefully the last of its kind, America's most divine author reveals the intimate and shocking details of His sudden elevation to the most coveted and least understood position in the universe. In early 2005 (A.D.), wearying of the world's religious schisms, doctrinal heresies, and manifold editorial sins, Thomas M. Disch took matters into His own hands and became the Deity. As controversial as it is incontrovertible, the moving true story of His awful transformation and its awesome aftermath reveals, at long last, the hidden web that links Disch, Philip K. Dick, Western wear, the Leamington Hotel, and Eternity itself. Read it in fear and trembling. But read it, or else. YOU WILL LAUGH. YOU WILL CRY. YOU WILL PRAY.
Tachyon Publications, 9781892391773, 180pp.
Publication Date: July 1, 2008
About the Author
Thomas M. Disch was a novelist, poet, and book critic. His work was featured in the New York Times, Entertainment Weekly, Harper's, The Nation, and the Hudson Review of Books. Disch was a major figure of science fiction's new-wave movement. His books included Camp Concentration, On Wings of Song, The Word of God, and The Brave Little Toaster. His nonfiction book about poetry, The Castle of Indolence, was nominated for the National Book Critics Circle Award in 1996. John Clute famously described Disch as "perhaps the most respected, least trusted, most envied, and least read of all modern first-rank SF writers."