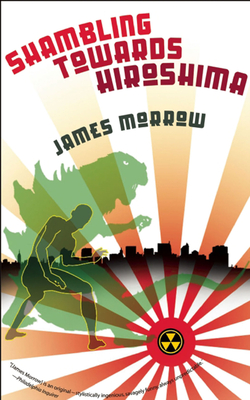 Shambling Towards Hiroshima
Paperback

* Individual store prices may vary.
Description
Sturgeon Award winner
Nebula and Hugo Award nominee It is the early summer of 1945, and war reigns in the Pacific Rim with no end in sight. Back in the States, Hollywood B-movie star Syms Thorley lives in a very different world, starring as the Frankenstein-like Corpuscula and Kha-Ton-Ra, the living mummy. But the U.S. Navy has a new role waiting for Thorley, the role of a lifetime that he could never have imagined. The top secret Knickerbocker Project is putting the finishing touches on the ultimate biological weapon: a breed of gigantic, fire-breathing, mutant iguanas engineered to stomp and burn cities on the Japanese mainland. The Navy calls upon Thorley to don a rubber suit and become the merciless Gorgantis and to star in a live drama that simulates the destruction of a miniature Japanese metropolis. If the demonstration succeeds, the Japanese will surrender, and many thousands of lives will be spared; if it fails, the horrible mutant lizards will be unleashed. One thing is certain: Syms Thorley must now give the most terrifyingly convincing performance of his life. In the dual traditions of Godzilla as a playful monster and a symbol of the dawn of the nuclear era, Shambling Towards Hiroshima unexpectedly blends the destruction of World War II with the halcyon pleasure of monster movies.
Praise For Shambling Towards Hiroshima…
"Witty and touching paean to the glory days of horror movies . . . The sheer insanity of the premise only makes the eventual payoff even more powerful."  Publishers Weekly
"A stellar performance." 
Booklist
"Sharp-edged, delightfully batty . . . skillfully mingling real and imaginary characters with genuinely hilarious moments."  Kirkus Reviews
"The most provocative satiric voice in science fiction." 
The Washington Post
"Amply displays [Morrow's] ability to juggle absurdity, tragedy, irony, and outrage." 
Locus magazine
"No book has captured the strange brew of jolly satire and moral indignity of vintage Kurt Vonnegut so well." 
Time Out Chicago
"Morrow understands theology like a theologian and psychology like a psychologist, but he writes like an angel."  Richard Elliott Friedman, author, The Hidden Book in the Bible
"A ridiculously fun read. Pitch-perfect satire."  Fantasy & Science Fiction
Tachyon Publications, 9781892391841, 170pp.
Publication Date: February 1, 2009
About the Author
James Morrow: James Morrow is the author of the World Fantasy Award-winning Towing Jehovah and the New York Times Notable Book Blameless in Abaddon. His recent novels include The Last Witchfinder, hailed by the Washington Post as ?literary magic," and The Philosopher's Apprentice, which received a rave review from Entertainment Weekly. He is a master of the satiric and the surreal, a writer who has enjoyed comparison with Twain, Vonnegut, and Updike. Morrow lives in State College, Pennsylvania.
or
Not Currently Available for Direct Purchase