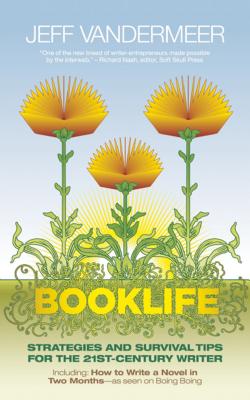 Booklife
Strategies and Survival Tips for the 21st-Century Writer
Paperback

* Individual store prices may vary.
Description
The world has changed, and with it the craft of writing. In addition to the difficulties of putting pen to paper, authors must now contend with a slew of new media. This has forever altered the relationship between writers and their readers, their publishers, and their work. In an era when authors are expected to do more and more to promote their own work, Booklife steers readers through the bewildering options: -What should authors avoid doing on the Internet? -How does the new paradigm affect authors, readers, and the fundamentals of book publication? -What's the difference between letting Internet tools use you and having a strategic plan? -How do authors protect their creativity while still advancing their careers? -How do you filter out white noise and find the peace of mind to do good work?
Award-winning author, editor, and Web-entrepreneur Jeff VanderMeer shares his twenty-five years of experience to reveal how writers can go about: -Using new media: blogs, Facebook, Twitter, MySpace, YouTube, podcasts, and IM -Effectively networking in the modern era (why it's not all about you) -Understanding the lifecycle of a book and your role in the publication process -Finding balance between your public and private lives and personas -Creating a brand and identity tied to your strengths and your writing -Working with your publisher: editors, publicists, marketing, and sales -Taking the long view: establishing short- and long-term professional goals -Getting through rejection and understanding the importance of persistence -Enjoying and enhancing your creative process and more.
Praise For Booklife: Strategies and Survival Tips for the 21st-Century Writer…
"This guide will surely help writers traverse the often difficult journey from first draft to finished product."  Publishers Weekly
"Well-organized masterclass in understanding how to fit both writing and a writing career into your life."  Cory Doctorow, Boingboing.net
"Jeff VanderMeer is an extraordinary writer . . . passionate, beautiful, complex, terrifying."  Tamar Yellin, author, The Genizah at the House of Shepher
"One of the things that sets VanderMeer apart is his embrace of technology and media. His online presence is considerable and includes a number of web sites, frequent blogging, a short film adaptation . . . his Alien Baby photo project and even a project involving animation via Sony Playstation."  Wired.com
"A brilliant writer!"  Peter Straub, author,
Lost Boy Lost Girl
"I've long marveled at Jeff's mad alchemist-like techniques of creation, promotion, and artistic survival through his artful navigation of brambly networks of writers, artists, musicians, historians, hatmakers, bloggers, booksellers, reviewers, and fans. To steal a line from an Eddie Izzard stand-up act, 'No one can live at that speed.'" Leslie Ann Henkel, publicist, Berkley/New American Library
"One of the most literary fantasy writers or fantastic literary writers we've got working these days, take your pick."  Ron Hogan, Mediabistro's GalleyCat
"The thing about life is that it's bittersweet. It is both funny and dreadful and horrific and beautiful and everything else. And so to capture that . . . I turn to fantasy for that reason."  NPR's
Weekend Edition Sunday
Tachyon Publications, 9781892391902, 329pp.
Publication Date: October 1, 2009
About the Author
Jeff VanderMeer is the best-selling author of City of Saints and Madmen, the noir thriller Finch, Annihilation, and Borne. He also is the editor of several canonic anthologies (the Steampunk anthology series, The New Weird). His award-winning novels have made the year's best lists at Publishers Weekly, the San Francisco Chronicle, and the Wall Street Journal. His nonfiction and reviews have appeared in Washington Post Book World, the Huffington Post, and the New York Times Book Review.
or
Not Currently Available for Direct Purchase