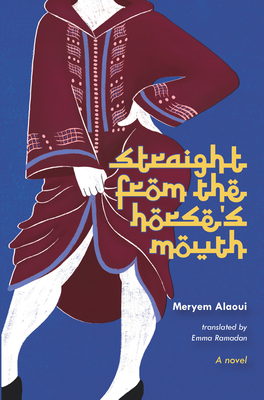 Straight from the Horse's Mouth
A Novel
Paperback

* Individual store prices may vary.
Description
Named a Best Book of the Year by the Los Angeles Public Library 

This hilarious, colorful portrait of a sex worker navigating life in modern Morocco introduces a promising new literary voice.
 
Thirty-four-year-old prostitute Jmiaa reflects on the bustling world around her with a brutal honesty, but also a quick wit that cuts through the drudgery. Like many of the women in her working-class Casablanca neighborhood, Jmiaa struggles to earn enough money to support herself and her family—often including the deadbeat husband who walked out on her and their young daughter. While she doesn't despair about her profession like her roommate, Halima, who reads the Quran between clients, she still has to maintain a delicate balance between her reality and the "respectable" one she paints for her own more conservative mother.
 
This daily grind is interrupted by the arrival of an aspiring young director, Chadlia, whom Jmiaa takes to calling "Horse Mouth." Chadlia enlists Jmiaa's help on a film project, initially just to make sure the plot and dialogue are authentic. But when she's unable to find an actress who's right for the starring role, she turns again to Jmiaa, giving the latter an incredible opportunity for a better life.
 
In her breakout debut novel, Meryem Alaoui creates a vibrant picture of the day-to-day challenges faced by working people in Casablanca, which they meet head-on with resourcefulness and resilience.
Praise For Straight from the Horse's Mouth: A Novel…
"Alaoui's debut novel follows a Moroccan sex worker whose blunt street-smarts will captivate readers…it's written with such grace and power that it's impossible to look away." —New York Times Book Review (Editors' Choice)

"A whirlwind story and a lot of fun to read." —BuzzFeed News, New Fall Books You Won't Want To Put Down

"If the idea of a 'female Moroccan Henry Miller' makes your antennae wiggle, have I got a book for you…By the end of [Straight from the Horse's Mouth] I was laughing, crying, and Googling 'sexy djellaba online sale.' RIYL: Orange Is the New Black, Leïla Slimani, reveling in crudeness but also in tenderness, Charles Bukowski." —Vulture

"[A] mesmerizing debut…Alaoui's shimmering prose is funny and original…[Her] tale is one to savor for its language and its verve." —Publishers Weekly (starred review)

"Bold and irreverent…A refreshing character study." —Kirkus Reviews

"[A] lively debut novel…funny and profane, rich with the sights and sounds of Casablanca." —Shelf Awareness

"Unique and refreshing, this debut centers modern Moroccan sex worker Jmiaa as she manages family, friendship, and faith with courage, humor, and candor." —Ms. Magazine
 
"Jmiaa's cheek is immediately endearing, as is her dark humor that hides a sordid reality…[Alaoui] brings together cinema and the street, two starkly opposed worlds. The film sets, where Jmiaa is like a bull in a china shop, offer moments of pure jubilation." —France-Amérique

"This book is so good. It carries you so quickly from despair to roaring laughter and back again. I would happily live in any world Alaoui would like to create for us." —Daisy Johnson, author of Sisters

"Female friendship, anger, and artistic courage are explored with wit in Alaoui's bold debut. Jmiaa is a woman living in the toughest of conditions but her inability to be anything but her unvarnished and sharp self steers her to surprising new worlds. A vibrant story of resilience told with refreshing honesty." —Marjan Kamali, author of The Stationery Shop and Together Tea 

"A powerful, original novel…one of the best I've read recently and one that will get people talking." —Tahar Ben Jelloun, author of This Blinding Absence of Light
 
"The story of a lively young woman, who is funny and courageous, at the heart of a world we don't often see explored in literature, where Meryem Alaoui deftly leads us." —Le Point
 
"Following Leïla Slimani's Paroles d'honneur, another young Moroccan woman, Meryem Alaoui, looks at a rarely seen side of the society that oppresses women in Morocco. Through the diary of a prostitute in Casablanca, the young author reveals the fragility and the harshness of life for those who are sacrificed, ostracized, left in the shadows." —Lire
Other Press, 9781892746795, 304pp.
Publication Date: September 15, 2020
About the Author
Meryem Alaoui was born and raised in Morocco, where she managed an independent media group that combined publications in French (TelQuel) and Arabic (Nichane). Straight from the Horse's Mouth, her debut novel, was first published in France, where it has achieved great critical acclaim. After several years in New York, Alaoui now lives in Morocco.
 
Emma Ramadan is a literary translator based in Providence, Rhode Island, where she co-owns Riffraff bookstore and bar. She is the recipient of an NEA Translation Fellowship, a PEN/Heim Translation Fund grant, a Fulbright, and the 2018 Albertine Prize. Her translations include Sphinx and Not One Day by Anne Garréta, Pretty Things by Virginie Despentes, The Shutters by Ahmed Bouanani, and Me & Other Writing by Marguerite Duras.