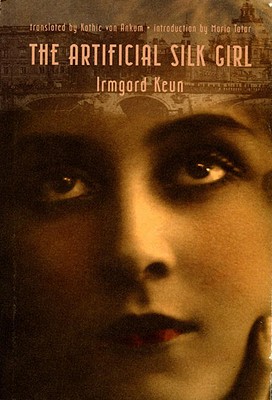 Artificial Silk Girl
Hardcover

* Individual store prices may vary.
Other Editions of This Title:
Paperback (6/14/2011)
Description
Before Sex and the City there was Bridget Jones. And before Bridget Jones was The Artificial Silk Girl.

In 1931, a young woman writer living in Germany was inspired by Anita Loos's Gentlemen Prefer Blondes to describe pre-war Berlin and the age of cinematic glamour through the eyes of a woman. The resulting novel, The Artificial Silk Girl, became an acclaimed bestseller and a masterwork of German literature, in the tradition of Christopher Isherwood's Berlin Stories and Bertolt Brecht's Three Penny Opera. Like Isherwood and Brecht, Keun revealed the dark underside of Berlin's "golden twenties" with empathy and honesty. Unfortunately, a Nazi censorship board banned Keun's work in 1933 and destroyed all existing copies of The Artificial Silk Girl. Only one English translation was published, in Great Britain, before the book disappeared in the chaos of the ensuing war. Today, more than seven decades later, the story of this quintessential "material girl" remains as relevant as ever, as an accessible new translation brings this lost classic to light once more. Other Press is pleased to announce the republication of The Artificial Silk Girl, elegantly translated by noted Germanist Kathie von Ankum, and with a new introduction by Harvard professor Maria Tatar.
Praise For Artificial Silk Girl…
Elle.com - Daily Essentials 2002

The Artificial Silk Girl
Monday, 7/29/2002

A young woman in pre-war Berlin dreams of becoming a star, but after a promising start, slowly slides into destitution. The Artificial Silk Girl follows Doris into the underbelly of a city that had once seemed all glamour and promise. Originally written in 1931 by 22-year-old German writer, Irmgard Keun, The Artificial Silk Girl became an instant best-seller. Just a year later it was banned by the Nazis, and all copies were destroyed. Kathie von Ankum's English translation will bring this masterwork to the foreground once more, giving a new generation the chance to discover Keun for themselves.

The Artificial Silk Girl by Irmgard Keun (translated by Kathie von Ankum), $22, at booksellers nationwide.

Kirkus 2002

The Artificial Silk Girl
July 1, 2002

A particularly vivid, gritty new English translation of a 1932 novel set in Berlin between the world wars, whose expatriate author (1905-82) enjoyed early critical and popular success, incurred the displeasure of Nazi censors, spent two years as the mistress of the great Austrian writer (also an expatriate) Joseph Roth, and wrote, pseudonymously, in obscurity (having returned to Germany) until her death. Keun's once-famous novel is the defiant (and anything but confessional) "confession" of its narrator Doris, an ambitious would-be actress whose drift into petty theft, poverty, and disillusionment is observed by a sharp unsentimental eye that also provides numerous vignette-like glimpses of the seaminess and heartlessness of a vibrant city stifled by the imperatives of Nazism. As we learn from scholar Maria Tatar's helpful introduction, this was conceived as an "answer" to Anita Loos's popular potboiler "Gentlemen Prefer Blondes." It's more than that: a commendably deft work of social criticism and understated character portrayal. A most worthy rediscovery.

Los Angeles Times Book Review 2002

Artificial Silk Girl
By Susan Salter Reynolds
Sunday, June 30, 2002

The Artificial Silk Girl, written in 1932 by Irmgard Keun, then 23, was blacklisted a year later by the Nazis for its anti-German portrayals of businessmen and bureaucrats. In the 1950s, it was resurrected as a feminist manifesto: the diary of a working girl in Depression-era Berlin.

Damned by the Nazis, hailed by the feminists. You'd think there's hardly anything left to say about the poor novel, except that it is a truly charming window into a young woman's life in the early 1930s.

Portland Phoenix 2002

The Artificial Silk Girl

First published in 1932, this unusual novel might well have been subtitled "Social Climbing through Bed-Hopping in the Last Days of the Weimar Republic." Initially a commercial success, it was soon banned by the Nazis for the racy, irreverent musings of its narrator, Doris, an office worker who decides that her best chance of improving her lot is to exercise her considerable libido as she tries to find a rich Mr. Right. Her strategy succeeds for brief periods, but Doris also goes through several down-at-the-heels phases as her various affairs come apart; at a particularly perilous moment, she is almost forced into prostitution. Her most consistent candidate for true love is a man named Hubert, who wanders in and out of her life. When he disappears, Doris takes a stab at life in the theater before a problematic affair ends that venture. Doris's frank, outrageous comments on the foibles of her various suitors keep things entertaining until the one-note romantic plot begins to wear thin. Readers may be disappointed that Keun (1905-1982) has little to offer on the politics of the era, save for her portrayal of a brief date in which Doris gets rejected when she pretends to be Jewish. That lacuna aside, this is an illuminating look at the much-mythologized social and sexual mores of Weimar Germany.

Copyright 2002 Cahners Business Information, Inc.

San Francisco Chronicle 2002

The Artificial Silk Girl
J. Alex Tarquinio Sunday
July 28, 2002

Christopher Isherwood and Bertolt Brecht narrated the chaos of Weimar-era Berlin, and today their "Berlin Stories" and "Three Penny Opera" are hailed as early 20th century classics. But how many people have heard of Irmgard Keun, author of "The Artificial Silk Girl," a popular German novel in 1932 that nearly vanished from literary history after the Nazis banned it a year later?

Other Press has a new English translation, the first since 1933 and an improvement on the original, which was marred by a translator who added political passages to keep pace with German politics. This could only have blemished the subtle political vision of the book's author, who was just 22. Although Keun's anti-Nazi stance is now known (she eventually fled Germany), the Nazis could not have banned her book in 1931 because of any overt political message. Rather, they must have been annoyed by the heroine's blase' attitude about her many random sexual encounters.

The book is the fictional journal of Doris, an 18-year-old runaway who goes to Berlin to seek her fame and fortune. Doris punctuates the passages in which she encounters politics and racial violence with statements of profound indifference. In the only episode in which she shows any interest in politics, she stumbles into a peace rally and is caught up in the emotion of the moment. A man takes her off to a pastry shop, where she hopes he will give her a lesson in German politics. But that is clearly not his intention, so she slips away from him. "And I was sad about not having gotten any political education. But I did have three pieces of hazelnut torte -- which took care of my lunch, which couldn't be said about a lesson in politics."
Other Press, 9781892746818, 216pp.
Publication Date: April 17, 2002
About the Author
Irmgard Keun

Irmgard Keun was born in Berlin in 1905. She published her first novel, GilgioA Girl Just Like Us, in 1931. Her second novel, The Artificial Silk Girl, instantly became a bestseller. After the war, she resumed writing under the name of Charlotte Tralow, enjoying only modest success until her early works were rediscovered and reissued in the late 1970s. She died in 1982 in Cologne.
or
Not Currently Available for Direct Purchase