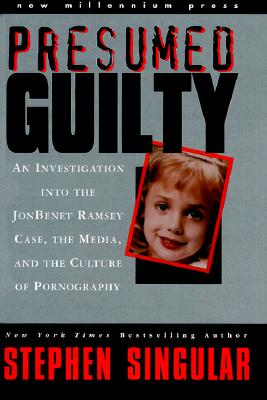 Presumed Guilty: An Investigation Into the Jonbenet Ramsey Case, the Media, and the Culture of Pornography (Hardcover)
An Investigation Into the Jonbenet Ramsey Case, the Media, and the Culture of Pornography
New Millennium Entertainment (CA), 9781893224001, 256pp.
Publication Date: July 1, 1999
* Individual store prices may vary.
or
Not Currently Available for Direct Purchase
Description
On the morning of December 26, 1996, JonBenet Ramsey was found murdered in the basement of her parent's million-dollar home in Boulder, Colorado. The events surrounding the death of the 6-year-old beauty queen horrified the city's residents and immediately captured the nation's interest. As throngs of reporters and media crews swarmed into Boulder, local and national networks flashed images of JonBenet, dressed provocatively in pageant regalia, across the country and overseas. Concurring with the opinions expressed on television and radio talk show programs, Boulder's police department focused its attention on two suspects: John and Patsy Ramsey, JonBenet's parents. Despite pressure from the police to arrest the Ramseys, the district attorney's office attempted to establish new leads and identify other suspects, but without the support of law-enforcement authorities, the D.A.'s efforts were stymied.
As the investigation came to a standstill, one man looked deeper. Not content to pass judgment on the Ramseys without conclusive evidence -- and convinced there was a reason for the legal system's wariness in prosecuting the case -- Denver-based journalist Stephen Singular followed a trail from the local bars to the county, jail to answer the question: Who, or what, killed JonBenet Ramsey?
Singular's search led him into the often seamy worlds of tabloid journalism, local politics, beauty, pageants, child pornography, and the business of sex on the Internet. His discovery -- of a subculture that sexually exploits young children and that surreptitiously is working its way into mainstream America -- motivated him to share his findings with the district attorney and the police. PresumedGuilty is his account of this journey into one of the darkest corners of modern American life.

Advertisement