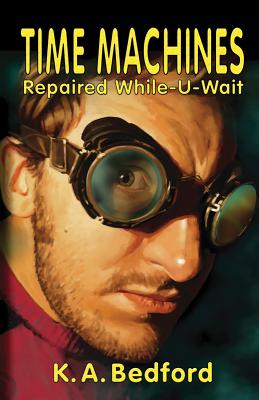 Time Machines Repaired While-U-Wait
Paperback

* Individual store prices may vary.
Description
For "Time Machines Repaired While-U-Wait" specialist, Aloysius "Spider" Webb, time travel has lost its luster.
Working as a senior time machine repair technician, Spider has seen it all - past, present and future. Wanting more out of life, Spider hates time travel and everything that goes with it...after all, time travel cost him his job as a top investigating police officer.
Fixing time machines is a waste of Spider's talent. But he's resigned to do it until he discovers, inside a broken second-hand time machine, the corpse of a woman; brutally murdered, wrapped in plastic and duct tape. Before Spider can act on his old police instincts, the shadowy Department of Time and Space steps in and seizes the machine, the remains, and all of the evidence, and closes the investigation.
Spider wants answers, but his questions only lead to more questions; unsettling evidence, brewing trouble, and the knowledge that Spider, himself, might be involved in an epic battle at the End of Time. Who can Spider trust? And what will they tell him: the truth or what he wants to hear?

EDGE Science Fiction and Fantasy Publishing,, 9781894063425, 324pp.
Publication Date: August 1, 2008
About the Author
K. A. Bedford was born in Fremantle, Western Australia, in 1963. He attended Curtin and Murdoch Universities, and studied Writing, Theatre, and Philosophy. He lives with his wife, Michelle, near Perth, Australia. His novels have been nominated for the Australian Aurealis Award and the P. K. Dick Award. Time Machines Repaired While-U-Wait won the Aurealis Award.
or
Not Currently Available for Direct Purchase