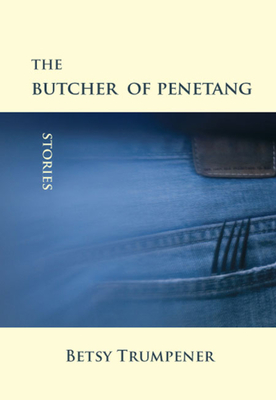 The Butcher of Penetang
Paperback

* Individual store prices may vary.
Description
Shortlisted for the Relit Award for Fiction

Finalist for the Danuta Gleed Literary Award for short fiction

Betsy Trumpener's raw fiction hits quickly, cuts deeply and lingers on in the imagination. Her urgent, unique voice pushes fiction north of what's real. The Butcher of Penetang carves up rare slices of savory stories that are both tough and delicious. A child missing in a dangerous part of town; a draft dodger with bloody hands; a robber armed with a hairbrush; a refugee who rescues poetry from his prison cell; moose hunters chasing snow flakes. The people in these edgy stories cut cocaine into comfort food, push sex into the snow and chase speeding ambulances in the dead of winter. Trumpener's debut collection is aching, funny, powerful and sharp.
Praise For The Butcher of Penetang…
"Are you up for meeting hunters with hearts of gold and the souls of children in a story called 'A Slip of the Tongue'? Or a toddler who cracks eggs on the family dog's snout in a story called 'Even a Blind Hen'? Or the youth group leader who likes to show young girls his porn magazines at the Bible camp's sleepover in 'Instructions for Altar Boys'? Or Keith at the Good Shepherd Day Centre, who thinks a wet teabag is his testicle and who later is picked up for trying to rob a bank with his wife's hairbrush in 'Satan's House'?

I am.

I like the sheer wackiness of Betsy Trumpener's style and her courage in trying it on." — BC Bookworld
"Trumpener's writing is odd yet striking, off-putting yet inviting, and at its strongest (in stories like 'The Search Party' and 'Pop Goes the Weasel!') it offers readers intimate and privileged access to the lives of its characters. Like Ross, Trumpener brings a poet's economical toolkit to the short story and in turn, builds a place for herself among our most promising writers in the genre." — 
Canadian Literature
"The stories in Trumpener's first collection are sharp and unconventional.  They are short, often less than two pages, and they sometimes lack the beginning/middle/end of the conventional short story.  But these stories burst from the page in language that is succinct and mesmerizing… Trumpener picks tiny moments and translates them onto the page with a vividness and intensity that makes this a remarkable debut collection." — 
Halifax Herald
Caitlin Press Inc., 9781894759304, 152pp.
Publication Date: November 3, 2008
About the Author
Betsy Trumpener is an award-winning CBC News reporter, writer and radio documentary producer. She has lived in Iowa, Israel, Alberta, Ontario, Bavaria and the Black Forest. She now lives with her family between a wild swamp and a pipeline in northern British Columbia, where she covers the daily drama of British Columbia's interior.

Trumpener's non-fiction and fiction writing have been published in the 'Guardian', the 'Globe and Mail, This Magazine, NOW Magazine, Monday Magazine', the 'Malahat Review, Event', the 'Queen Street Quarterly, Northword' and 'filling Station'. She was the first annual writer in residence for the CBC weekend arts show, 'North By Northwest', and she has been awarded a Western Magazine Award for her column, "North of Unreal," a Jack Webster Award for Best Radio Feature, and a Jack WebsterAfrica JournalismFellowship. 'The Butcher of Penetang' is her first book. She lives in Prince George, British Columbia.
or
Not Currently Available for Direct Purchase