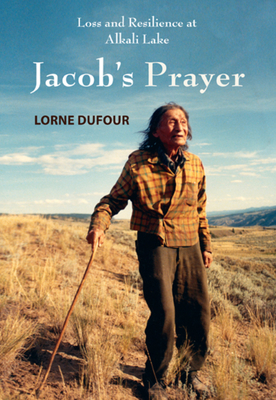 Jacob's Prayer (Paperback)
Caitlin Press Inc., 9781894759335, 160pp.
Publication Date: June 29, 2009
* Individual store prices may vary.
Description
In 1974 Lorne Dufour moved to Alkali Lake Reserve, a Shuswap community near Williams Lake in British Columbia, to help reopen the local elementary school. Like many First Nation communities across Canada, Alkali Lake had been ravaged by decades of residential schools and forced religion. Colonialism had robbed them of their language and culture and had left a legacy of abuse and alcoholism. But in 1972, Chief Andy Chelsea and his wife Phyllis took it upon themselves to lead their community on a long and painful road to sobriety and what ensued was a dramatic transformation of a people enslaved by a seemingly unstoppable plague. By 1985, Alkali Lake was almost a hundred percent dry and had become a role model for many other communities in BC.

Jacob's Prayer takes place during this time of transformation and it speaks to the unexpected existence of resiliency in the most unassuming of characters. It centers around one tragic Halloween evening in 1975 when two men lose their lives and another is saved by a friend who chooses not to be destroyed by his own tragedy and devastating loss. Jacob's Prayer is the haunting and poetic story of a community's suffering, loss and eventual healing.
About the Author
Lorne Dufour has worked as a teacher, a counsellor, a logger, a travelling showman and a poet. In 1985 he played the alcoholic priest in the film 'The Honor of All', the story of the Alkali Lake Reserve's battle with alcoholism. Dufour has published two books of poetry, 'Spit on Wishes' and 'Starting From Promise', which won the Poets' Corner Award from Broken Jaw Press in 2000. He is a handlogger and lives off the grid in McLeese Lake, BC, with his wife Diana.
Praise For Jacob's Prayer…
"Lorne Dufour's Jacob's Prayer and Robert Arthur Alexie's Porcupines and China Dolls are prayers for healing. These prayers are not recited over the heads of fearful children who do not understand their meaning: they are true prayers grounded in the sacred dirt of life. As witnesses of the filthy legacies of colonialism, Dufour and Alexie call First Nations to come together with real hope for healing." — Canadian Literature
"Like many First Nations communities across Canada, Alkali Lake had been severely impacted by decades of residential schools and forced religion. The legacy of colonialism had deprived them of their language and culture and created a devastating relationship with alcoholism.
Jacob's Prayer takes place during this time of transformation, and speaks to the unexpected resiliency of a community and its people." — Williams Lake Tribune
or
Not Currently Available for Direct Purchase