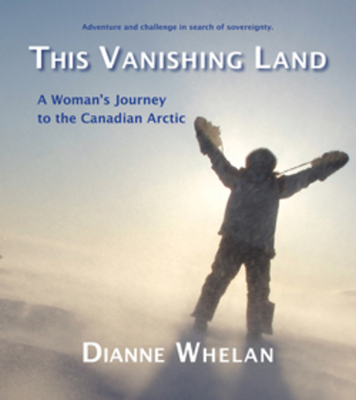 This Vanishing Land (Paperback)
A Woman's Journey to the Canadian Arctic
Caitlin Press Inc., 9781894759380, 160pp.
Publication Date: October 15, 2009
* Individual store prices may vary.
Description
In the spring of 2007 the Canadian Forces and the Canadian Rangers, the regiment responsible for providing a military presence in isolated communities, set out on a treacherous journey across jagged sea ice and over steep and hostile terrain. Their mission was to travel over two thousand kilometres by snowmobile from Resolute to the Canadian Forces Station Alert, and plant a Canadian flag enroute at Ward Hunt Island. Author, photographer and filmmaker Dianne Whelan is the first woman to accompany the Rangers on this never before patrolled route of the northwestern coast of Ellesmere Island. Walking in the path of the historic giants of exploration, they were the first to reach this destination in the High Arctic since American explorer Robert E. Peary's famous voyage in 1906. Operation Nunalivut (the Inuktitut word for "land that is ours") pushes Whelan to her physical and emotional limits. There are some chilling moments, such as when her snowmobile catches fire or later when she plunges into a twenty-foot crack in the ice, but Whelan boldly faces conditions only few can imagine and makes history as the first woman to successfully complete the gruelling trip. In This Vanishing Land Whelan shares her personal journey and explores the tumultuous political history and global significance of the Canadian High Arctic.
About the Author
Dianne Whelan is an award-winning Canadian filmmaker, photographer, author and multimedia artist. In April 2010, Whelan traveled to Nepal and Mount Everest Base Camp to direct and shoot her award-winning documentary film 40 Days at Base Camp. Whelan's first book, This Vanishing Land (Caitlin Press), recalls her experience as an embedded media person on a historical sovereignty patrol in the Canadian High Arctic. Her National Film Board documentary, This Land, is based on the same journey. Whelan is currently working on her next film and book project, called The Story of White Raven, which weaves the indigenous legend of the white animals into the current war on nature.
Praise For This Vanishing Land: A Woman's Journey to the Canadian Arctic…
"This Vanishing Land works well as a first-person travelogue of a trip through the High Arctic. Whelan does an especially nice job of inserting historical anecdotes and oral history sidebars into the narrative. She excels at describing the daily hardships of travelling in the Arctic and bluntly details her own struggles and triumphs on the journey." — Peggy M. Dillon
or
Not Currently Available for Direct Purchase