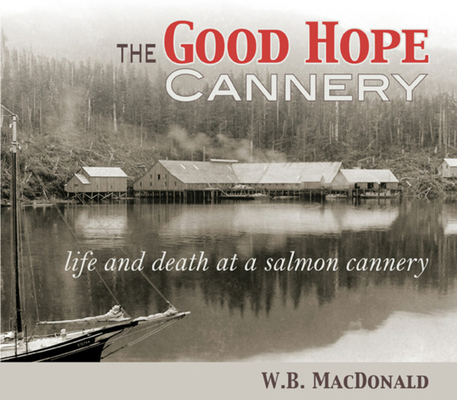 The Good Hope Cannery
Life and Death at a Salmon Cannery
Paperback

* Individual store prices may vary.
Description
In 1895 Scottish entrepreneur, engineer, and outdoor adventurer Henry Ogle Bell-Irving built the Good Hope Cannery in Rivers Inlet, BC. There was a fortune to be made and Bell-Irving was determined to make one, both for the shareholders of the Anglo-British Columbia Packing Company, and for himself. As sole agent for ABC, he effectively controlled the company, which grew to include cannery operations on the west coast from Washington State to Alaska. For years the operation was astronomically successful, but profits were realized on the backs of skilled Chinese and Native cannery workers, and on the know-how of northern Europeans and Japanese fishermen.

Good Hope canned salmon continuously until 1940 and thereafter served company fishermen as a place where they could refuel, eat, buy supplies and have their boats and nets repaired. By the late 1960s, depleted fish stocks and technological advances rendered Good Hope obsolete as a camp. But a Henry Bell-Irving descendant, grandson Ian Bell-Irving, envisioned Good Hope as a sport fishing resort catering to affluent North Americans, and so Good Hope entered the third phase of its life, a phase that continues to this day. The Good Hope Cannery and the Goose Bay Cannery in Duncanby are all that are left of an important era in BC's history—all the other canneries in Rivers Inlet have vanished.

The Good Hope Cannery is a story of the people who built it, worked in it, fished for it, maintained it, and welcomed guests to it. MacDonald looks deeply into the personalities and everyday lives, and sometimes tragic deaths, of the colourful characters of the Good Hope Cannery.
Caitlin Press Inc., 9781894759649, 216pp.
Publication Date: October 31, 2011
About the Author
W.B. (Bruce) MacDonald was born in New Westminster, B.C. He has been published in the 'Malahat Review, Quarry,' and the 'Antigonish Review'. His poem "i like your parents' liquor store, baby" won first prize in 'This Magazine's' "Great Canadian Literary Hunt." He is the author of eight books including 'Heroes' and 'The Mornin' The Psychedelic '60s Came Splashin' Through Tidal Pools'. Before turning to writing Bruce owned an award-winning advertising agency. 'The Good Hope Cannery'is his first book of BC history.
or
Not Currently Available for Direct Purchase