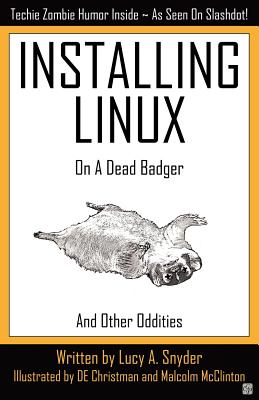 Installing Linux on a Dead Badger
Paperback

* Individual store prices may vary.
Description
Installing Linux on a Dead Badger (and other Oddities) is a collection of Lucy Snyder's humorous essays, fiction and articles, some culled from places like "Strange Horizons" and "Spacesuits and Six-Guns" and some brand new. This collection of thirteen short stories, articles and essays from Lucy A. Snyder will appeal to any fan of zombies, aliens or installation manuals. Here's what Wikipedia said about Lucy, last time we checked: "Lucy A. Snyder is an American science fiction, fantasy, humor, and nonfiction writer. She grew up in San Angelo, Texas but moved to Bloomington, Indiana for graduate studies at Indiana University and currently lives in Columbus, Ohio with her husband Gary A. Braunbeck. Snyder served as an editor for HMS Beagle, an online bioscience publication produced by Elsevier. She has also contributed technical articles to publications such as Electronic Products.
Creative Guy Publishing, 9781894953474, 116pp.
Publication Date: October 15, 2007