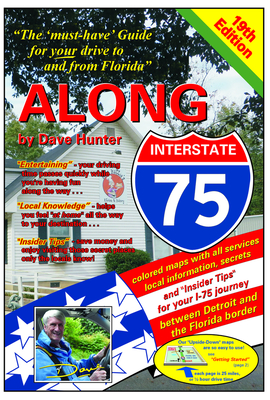 Along Interstate-75, 19th edition
The "must have" guide for your drive to and from Florida
Paperback

* Individual store prices may vary.
Description
Along Interstate-75, from Detroit to the Florida Border.
Interstate-75 is the main route for the millions of Midwestern "snowbirds" who drive to and from Florida each winter . . . and the current edition of Along I-75 is the "must have" guide for the trip.
Whether a first-timer or one who has driven the route for many years, the book is packed with local information along the way, a culmination of more than 50 years of the author's Florida-bound I-75 driving experience.
Getting there is half the fun—Local knowledge, "Insider" and Money Saving tips, lodging & restaurant recommendations and mile-by-mile roadside stories and entertainment.
Each of the book's 25 mile-per-page colored strip-maps takes an average of 30 minutes to drive, providing a sense of pacing for your trip - excellent for planning your night stops while on the route.
The two sets of custom-designed maps (south and northbound) are intuitive and very easy to use - even for non-map readers. Each "fits" your direction of travel so landmarks and features drawn on the right side of the map, pass on the right side of your car.
Designed with in-car use in mind, the book has a laminated wrap-around cover and book mark flap. A concealed plastic spiral binding allows the book to be easily folded back to display the current road-section map.
Completely updated every odd numbered year, Along I-75 contains no advertising or commercial content.
Each current edition of the book has a "reader's only" website where major updates to the book's information are posted. Also includes updated and downloadable replacement maps and pages for the book.
The book features:
• 78 colored 25 mile road strip maps (39 for each direction of travel),
• 28 colored maps (side-trips and towns) and 196 colored photos,
• 67 b&w maps and photos,
• 105 charts and diagrams,
• 72 restaurant and money-saving tips,
• 24 Special Interest reports.
Companion book: Along Florida's Expressways. A driving guide which covers all of the Sunshine States' interstates, expressways and toll routes, in a similar format. It includes I-75 from the Georgia/Florida border southwards to Miami.
Praise For Along Interstate-75, 19th edition: The "must have" guide for your drive to and from Florida…
"Occasionally in the life of a travel reviewer you see a guide book that makes you want to shout, ALL RIGHT!!! . . this book should go in the glove compartment right next to the owner's manual." — Travel Books Review, Atlanta
"Highly recommended." — Atlanta Constitution
"Anyone driving I-75 without this guide is missing most the fun and knowledge." — Milne's Travelwriter Marketletter, New York
"So you think you know the I-75 - Hunter's book will be a revelation." — 
Detroit Free Press
"It's just like having your own personal travel guide in the car." —
 Columbus Dispatch
"The most common sense travel guide tried this year." — 
St. Petersburg Times
, Florida
Mile Oak Publishing Inc., 9781896819198, 208pp.
Publication Date: September 20, 2016
About the Author
Dave Hunter loves maps, history, driving and discovering unusual stories along the way. Combined with his fondness for writing, this led to Along Interstate-75—a travel book which has quickly become the "must-have" guide for "snowbirds" heading out for the long-distance drive to Florida, each winter.
His passion for history paid dividends while writing the I-75 guide. During research, he rediscovered two little known Civil War battle sites in North Georgia and noted that the interstate ran right across the middle of the Union and Confederate battle lines. Modern posters of his battlemaps were displayed in Georgia's Welcome Center, during the 1996 Atlanta Olympics. He also found a forgotten trail blazed in 1775 by Daniel Boone, which crosses the path of the modern interstate in Kentucky.
Both of these finds were made possible by Dave's ability to read topographical maps–a skill he developed as a youngster roaming the hills and valleys of England's South Downs, looking for prehistoric encampments and lost Roman roads.
With more than twenty-five years of writing about I-75 road travel, Dave has become the media "go-to" person when producing annual drive-to-Florida content, and has appeared in hundreds of newspaper articles and radio & TV guest appearances.
For the past sixteen years, Dave has hosted an all-day entertainment stage at the two-day Snowbird Extravaganza, held in Lakeland, Florida. This annual consumer show attracts over 15,000 U.S. & Canadian snowbirds each day. He is also a regular contributor of I-75 and Florida articles for the CSA News, Canada's official Canadian Snowbird Association.
Dave is a credentialed member of the prestigious Society of American Travel Writers (SATW). He also holds media credentials with  the North American Travel Journalist Association (NATJA) and International Travel Writers Alliance-UK (ITWA). His full biography may be found in Canada's Who's Who.
Kathy Hunter is a member of the Society of American Travel Writers (SATW) Editors Council. Kathy requalifies for her credentials every two years.
or
Not Currently Available for Direct Purchase