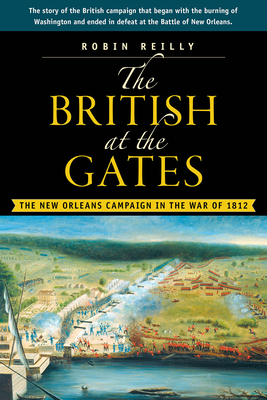 The British at the Gates
The New Orleans Campaign in the War of 1812
Paperback

* Individual store prices may vary.
Description
In 1814, the final year of the War of 1812, Britain mounted a massive seaborne assault against the United States. The British burned Washington, forcing President Madison and his cabinet to flee, but the Americans succeeded in fending off an assault on Baltimore (commemorated in the words of the American National Anthem). By the end of 1812 the British had sailed southward to launch a bold attack on New Orleans, which was defeated by the Americans under the inspired leadership of Andrew Jackson.Reilly's account of the Battle of New Orleans and the events that led up to it was first published to great acclaim in 1974. It is still regarded by many experts as unsurpassed. This is the first paperback edition. The text has been reset and the maps redrawn, and there are more pictures.
Praise For The British at the Gates: The New Orleans Campaign in the War of 1812…
"This is battle history at its best – scholarly and lively." — Library Journal

"An objective and incisive account. [Reilly] holds our interest while he outlines the broad picture of international politics. The tempo increases with the attack on Washington and Andrew Jackson's perilous expedition down the Mississippi, and then the reader is prepared and waiting for the big confrontation in New Orleans. The battle scenes are graphic." — Publishers Weekly

"Judicious and perceptive." — Kirkus Reviews

"The author, a British historian, has lived enough years in New Orleans to show the warmth of his personal feelings for its people, its history and its traditions. Objective and incisive, scholarly yet lively, this is a fascinating exploration of the Battle of New Orleans." — Sunday Advocate, Baton Rouge

"Anyone interested in military or political history will enjoy it." — Jackson Sun, Jackson, Tennessee

"An excellent account, particularly of the campaign and conditions in Louisiana." — Financial Times, London

"Good story-telling, fair comment and balanced history." — The Economist, London

"An important work based on a careful study of primary and secondary evidence… Reilly writes with a clear, vivid and highly readable style." — Louisiana History, Baton Rouge

"Deserves a high place on the Louisiana history shelf. It is a fine piece of research and writing." — Times-Picayune, New Orleans

"Reilly has produced an excellent, highly-readable work which must be reckoned with by scholars. It will be enjoyed by the general reader as well." — Florida Historical Quarterly
Robin Brass Studio, Inc., 9781896941257, 420pp.
Publication Date: January 1, 2010
About the Author
Robin Reilly was born in England and served as an officer in the Royal Artillery. After leaving the army he worked for Wedgwood, the china company, becoming general manager, before starting a career as a writer. His other books include three on the Wedgwood company and its china, as well as biographies of James Wolfe and William Pitt the Younger.
or
Not Currently Available for Direct Purchase