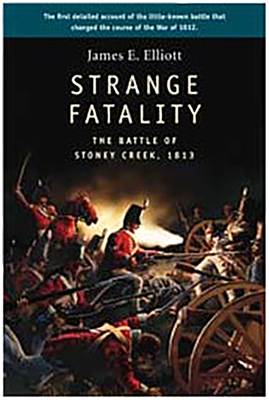 Strange Fatality
The Battle of Stoney Creek, 1813
Paperback

* Individual store prices may vary.
Description
In the spring of 1813, the largest amphibious force in American history to that point - 6,000 troops aboard 140 vessels - landed near the mouth of the Niagara River, routed the British garrison and captured Fort George. It was the second consecutive American victory and a sign that events of 1813 would redress the calamities of 1812. The badly mauled British army reeled westward, its leadership uncertain where, or how, the retreat would end. The American forces were poised to deliver the critical blow the War Hawks in Congress had dreamed of when they predicted a four-week war to subdue the British province. 10 days later, in a field near Stoney Creek, the promise of that triumph was smashed in a terrifying night action which hinged on a single bayonet charge that carried the American artillery and decapitated the American force. Little understood, even by Canadians, Stoney Creek was one of the most decisive reversals of fortune in the War of 1812 and determined the fate of the colony that would become Ontario.
Praise For Strange Fatality: The Battle of Stoney Creek, 1813…
"Exceptional book … impressive research and writing.… meticulous and well-illustrated. His portrayals of the human dimensions of the struggle and its aftermath are gripping." — Hamilton Spectator

"Elliott has succeeded ­marvellously, in turning a military history into a real cliff-hanger." — Toronto Star

"A gripping account of an ­important battle that separates the real soldiers from the poseurs … sparkles with wit and observation." — Globe and Mail

"Detailed battle accounts are notoriously difficult to write. Accurate ones tend to put general readers to sleep. Popular ones often romanticize or foreshorten complex events…. Elliott is thorough, accurate, evenhanded and vivid. Strange Fatality, set as it is in the context of the larger Dearborn campaign on the peninsula, reads like a novel. It is good, gory, realistic stuff, which accurately depicts the most unpopular conflict in United States history before Vietnam." — Portland Press Herald, Maine
 
Robin Brass Studio, Inc., 9781896941585, 320pp.
Publication Date: October 31, 2009
About the Author
James Elliott is a Canadian journalist and author with a keen interest in early North American history. He has written widely on the War of 1812 and was a consultant on the award-winning television series Canada: A People's History. He is also author of the critically acclaimed book [i]If Ponies Rode Men[/i].
or
Not Currently Available for Direct Purchase