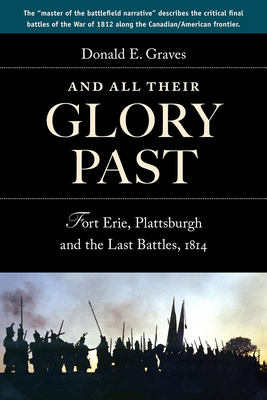 And All Their Glory Past
Fort Erie, Plattsburgh and the Final Battles in the North, 1814
Paperback

* Individual store prices may vary.
Description
And All Their Glory Past is the story of the last major battles of the War of 1812 in the northern theatre, which were fought in the summer and autumn of 1814 and had a decisive effect on how the war ended.

The first of these actions is the 53-day siege of Fort Erie, which incurred more casualties than the better known battle of New Orleans in some of the most vicious fighting of the war. The Americans besieged in the fort on the Canadian side of the Niagara River succeeded in driving off the British attacks but decided to withdraw across the border before the onset of winter, thus marking the end of hostilities on Canadian soil.

The second major action is the naval and land battle of Plattsburgh, New York. An outgunned American naval squadron on Lake Champlain succeeded through outstanding seamanship in defeating their Royal Navy opponents, causing the British commander in chief, General Sir George Prevost, to withdraw, a reverse he was unable to live down and an American victory that had a direct bearing on the final outcome of the war.

The author also describes the devastating raid in which General Duncan McArthur's mounted troops burned and plundered their way across southwestern Ontario from present-day Windsor to Brantford

Written by Donald E. Graves, known as the "master of the battlefield narrative" and acknowledged internationally as an authority on the War of 1812, And All Their Glory Past is a fascinating blend of scholarly research, engaging narrative and insight into the minds of men under the stress of combat. It complements two previous books by Donald E. Graves, Field of Glory: The Battle of Crysler's Farm, 1813 and Where Right and Glory Lead! The Battle of Lundy's Lane, 1814, widely read classics that have remained in print for more than a decade due to popular demand.
Robin Brass Studio, Inc., 9781896941714, 400pp.
Publication Date: November 25, 2013
About the Author
Donald E. Graves, one of Canada's best known military historians, is the author or editor of 20 books primarily on the War of 1812 and the Second World War. His studies on the battles of Lundy's Lane (Where Right and Glory Lead!) and Crysler's Farm (Field of Glory) are established classics of musket-period warfare.
or
Not Currently Available for Direct Purchase