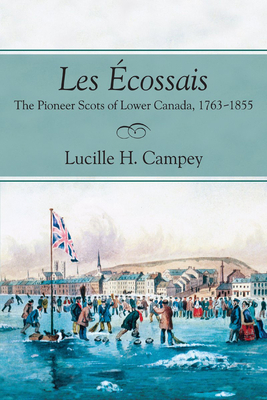 Les Écossais
The Pioneer Scots of Lower Canada, 1763-1855
Paperback

* Individual store prices may vary.
Description
This is the first fully documented account, produced in modern times, of the migration of Scots to Lower Canada. Scots were in the forefront of the early influx of British settlers, which began in the late eighteenth century. John Nairne and Malcolm Fraser were two of the first Highlanders to make their mark on the province, arriving at La Malbaie soon after the Treaty of Paris in 1763. By the early 1800s many Scottish settlements had been formed along the north side of the Ottawa River, in the Chateauguay Valley to the southwest of Montreal, and in the Gaspe region. Then, as economic conditions in the Highlands and Islands deteriorated by the late 1820s, large numbers of Hebridean crofters settled in the Eastern Townships. The first group came from Arran and the later arrivals from Lewis.
Les Ecossais were proud of their Scottish traditions and customs, those living reminders of the old country which had been left behind. In the end they became assimilated into Quebec's French-speaking society, but along the way they had a huge impact on the province's early development. How were les Ecossais regarded by their French neighbours? Were they successful pioneers? In her book, Lucille H. Campey assesses their impact as she unravels their story. Drawing from a wide range of fascinating sources, she considers the process of settlement and the harsh realities of life in the New World. She explains how Quebec province came to acquire its distinctive Scottish communities and offers new insights on their experiences and achievements.
Natural Heritage Books, 9781897045145, 336pp.
Publication Date: June 5, 2006
About the Author
Dr. Lucille Campey is a Canadian, living in Britain, with over thirty years of experience as a researcher and author. It was her father's Scottish roots and love of history that first stimulated her interest in the early exodus of people from Scotland to Canada. She is the great-great-granddaughter of William Thomson, who left Morayshire, on the northeast coast of Scotland, in the early 1800s to begin a new life with his family, first near Digby, then in Antigonish, Nova Scotia. He is described in D. Whidden's History of the Town of Antigonish simply as William, Pioneer and is commemorated in the St. James Church and Cemetery at Antigonish. Lucille's mother, Cecile Morency, who was born in Ste-Marie-de-Beauce, is a descendant of Guillaume Baucher dit Morency, who settled in Ile d'Orleans in 1659. Lucille was awarded a Ph.D. by Aberdeen University in 1998 for her research into Scottish emigration to Canada in the period 1770-1850. Lucille has published six books on the subject of emigrant Scots to Canada. Described by the P.E.I. Guardian as indispensable to Islanders of Scottish ancestry, her first book, A Very Fine Class of Immigrants: Prince Edward Island's Scottish Pioneers 1770-1850 (Natural Heritage, 2001), gives the most comprehensive account to date of the Scottish influx to the Island. Her second book, Fast Sailing and Copper-Bottomed: Aberdeen Sailing Ships and the Emigrant Scots They Carried to Canada 1774-1855 (Natural Heritage, 2002), gives a gripping account of emigrant shipping from the north of Scotland to Canada in the sailing ship era. Her third book, The Silver Chief: Lord Selkirk and the Scottish Pioneers of Belfast, Baldoon and Red River (Natural Heritage, 2003), examines the three Selkirk settlements in Canada. According to the distinguished genealogist and author Ryan Taylor the three titles now stand as a significant contribution to Canadian immigrant literature. Her fourth book is After the Hector: The Scottish Pioneers of Nova Scotia and Cape Breton, 1773-1852 (Natural Heritage, 2004), her fifth is The Scottish Pioneers of Upper Canada, 1784-1855: Glengarry and Beyond (Natural Heritage, 2005), and her sixth book is Les Ecossais: The Pioneer Scots of Lower Canada, 1763-1855 (Natural Heritage, 2006). A seventh book, which will deal with emigration from Scotland to New Brunswick, will be published by Natural Heritage in Spring 2007. A chemistry graduate of Ottawa University, Lucille worked initially in the fields of science and computing. After marrying her English husband, she moved to the north of England, where she became interested in medieval monasteries and acquired a Master of Philosophy Degree (on the subject of medieval settlement patterns) from Leeds University. Having lived for five years in Easter Ross, in the north of Scotland, while she completed her doctoral thesis, she and Geoff returned to England, and now live near Salisbury in Wiltshire.
or
Not Currently Available for Direct Purchase